Bacon Wrapped Pumpkin with Oak Smoked Northumbrian Cheese Dip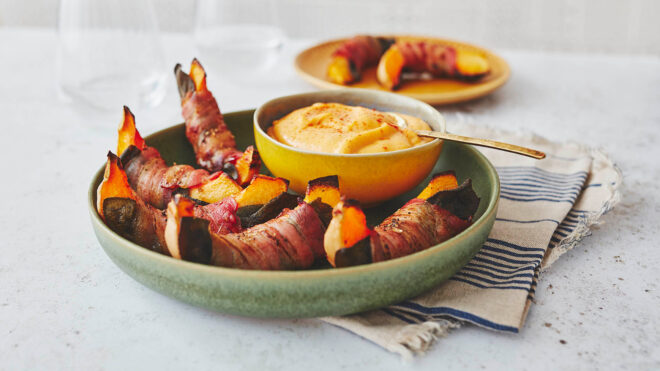 4 servings
30 minutes to prepare
Ingredients
200g pumpkin, sliced
1 handful fresh sage leaves
8 rashers smoked streaky bacon
For The Cheese Dip:
3tsp cornflour
1tsp smoked paprika
1tsp garlic powder
100ml milk
100g Oak Smoked Northumbrian cheese, grated
Instructions
Method:
1. Pre heat the oven to 200°c/180°c Fan/392°F/Gas Mark 6.
2. Slice the pumpkin into 1cm thick slices, top with a few sage leaves and wrap with the streaky bacon.
3. Bake in the oven for 10 minutes until the pumpkin is tender.
4. To make the cheese sauce, grate the cheese and coat with the corn flour, paprika and garlic powder.
5. Place the cheese mix in a saucepan and add the milk. Gently heat the mix on a low heat until it comes together.
6. Keep stirring until the cheese has fully melted and the dip is smooth and thick.
7. Serve with the hot pumpkin slices.
Chef's Tip:
This cheese sauce is perfect to add to some pasta along with any leftover diced pumpkin for a quick and easy pasta lunch.