The Boho Baker's Pain d'épices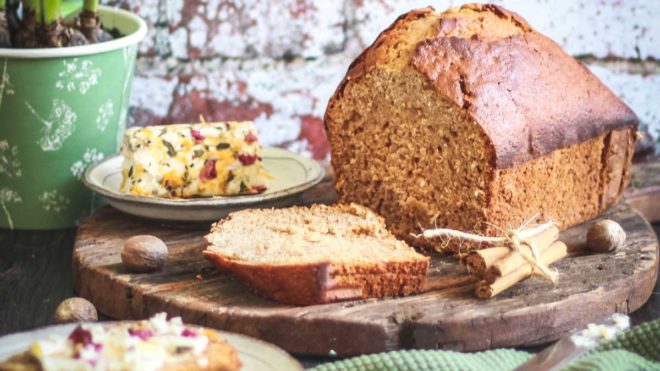 10 servings
1 hour 15 minutes to prepare
Ingredients
275g plain flour
60g dark rye flour
60g oatmeal
250g runny honey
40g unsalted butter
160ml milk
60g caster sugar
2 eggs
Zest of half a lemon
Zest of half an orange
2tsp baking powder
1tsp cinnamon
1tsp ginger
Pinch gorund cloves
Pinch of ground nutmeg
Pinhc of salt
Instructions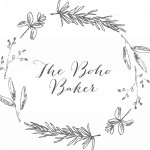 The Boho Baker describes herself as "Baker. Writer. Forager. Wanderer. Organic ingredient and edible floral Enthusiast. Member of the Guild of Food Writers." Very local to our HQ in Preston, she's our fabulous professional guest recipe writer, and champion of celebrating the best of our local produce. Follow her on instagram @thebohobaker
"I've used the edible flower goats cheese from your deli counter for the image, it's not an essential but it tastes incredible with this bread!"
This rye bread recipe is described by The Boho Baker as a "kind of a cake/bread hybrid. It's delicious on it's own, drizzled with honey, or slathered with goats cheese."
Method:
Preheat the oven to 180C/160C (fan)/gas mark 4. Grease and line a loaf tin in preparation.

Combine the milk, honey, and butter in a saucepan and gently heat until the butter has melted. Set aside to cool.

Whisk together the caster sugar, eggs, and zests until pale and fluffy.

In a separate bowl, mix together both flours, the baking powder, spices, and salt. Stir in the oatmeal and make a well in the centre of the dry ingredients.

Pour the egg mixture and half of the cooled milk into the centre of the well. Stir with a cutlery knife, adding the cooled milk a little at a time as the mixture comes together. Continue until all of the milk has been used and you're left with a smooth batter.

Pour the batter into the loaf tin and bake in the oven for 45 minutes. If the loaf is still a little underdone at this point, cover with a sheet of greaseproof paper and bake for a further ten minutes.

Remove the loaf from the oven and leave to cool on a wire rack. Serve with a drizzle of honey or a slathering of goats cheese.
Have you got a foodie question you'd like The Boho Baker to answer? Just fill in the form below for consideration, and it may be answered in the monthly blog she creates for us. Read her Perfect Pastry blog on our website by tapping here.