Sweet and Savoury Grazing Board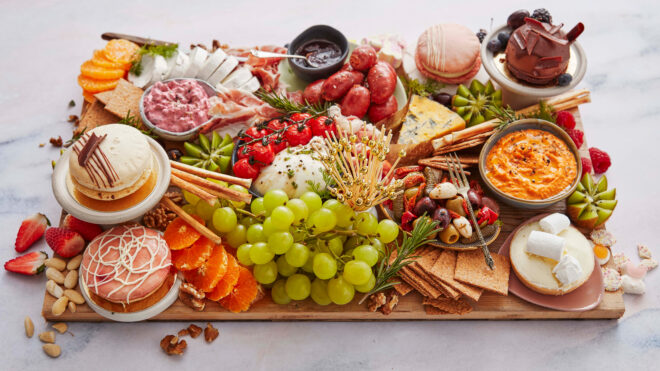 5 servings
30 minutes to prepare
Ingredients
Savoury
1 Todmorden charcuterie platter
1 pack Brindisa Picante Chorizo
1 pack Booths Sundrenched Tomatoes & Herbs
1 The Real Olive Company Antipasti Olives
1 Booths Red Pepper And Jalapeno Houmous
1 Booths Beetroot And Mint Dip
100g cherry tomatoes on the vine
200g Shepherds Purse Yorkshire Blue Cheese
1 Burrata cheese
1 150g Butlers Kidderton Ash Goats' Cheese
1 pack Crosta & Mollica Parmesan & Poppy Seed Torinesi breadsticks
1 pack Peter's Yard Fig And Spelt Sourdough Crackers
Sweet
1 The Harrogate Cake Co. lemon tartlet
1 The Harrogate Cake Co. strawberry tartlet
1 The Harrogate Cake Co. salted caramel macaron
1 The Harrogate Cake Co. raspberry macaron
1 The Harrogate Cake Co. chocolate mousse cake
2 Clemengold citrus
50g blueberries
1 bunch green grapes
50g blackberries
50g cherries
2 kiwis cut in half
1 small handful of your favourite sweets
1 small handful of nut for garnish
Honey
Instructions
You will need a board or a platter and some small bowls or ramekins.
Method:
1. Select a suitable board or platter and place your desserts around the edges.
2. Place the bowls and ramekins on the board and fill with dips and olives. Ensure you are arranging the board for the best visual impact.
3. Roast the cherry tomatoes in a hot oven for 5 minutes on the vine, season with salt, olive oil and balsamic vinegar.
4. Evenly distribute the cheese next to the bowls, we recommend pairing the sliced goats cheese with the beetroot dip and the roasted tomatoes with the burrata.
5. Cook the Brindisa Chorizo in a frying pan for 4-5 minutes and place on a small plate, pair with a small pot of honey to dip.
6. Arrange the other slices of meat around key savoury focal areas like cheese and dips.
7. Add the larger fruit items like kiwis and Clemengold citrus, then add in the grapes and berries.
8. Fill in any gaps with sweets, crackers, bread sticks and nuts, then serve.
Chef's Tip:
The "vandyke" cut kiwis in the photo are achieved by cutting zig zags into the centre of the kiwi with a sharp knife and then separating the two halves.