Goats' Cheese, Caramelised Onion & Pear Flatbreads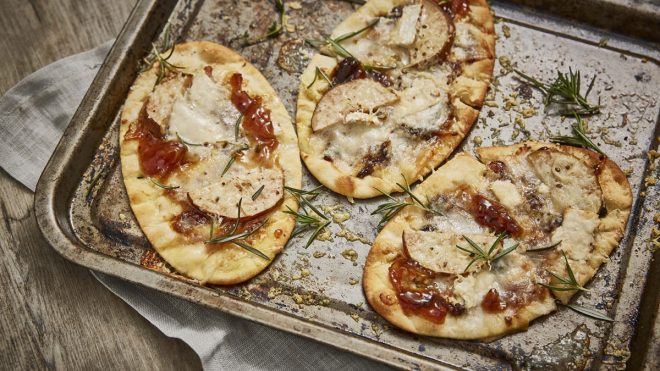 4 servings
10 minutes to prepare
Ingredients
4 small flatbreads
1 jar caramelised onion chutney
50g grated hard goats' cheese
50g blue cheese
2 sliced pears
1tbsp olive oil
Instructions
An easy, cheesy supper snack or light lunch dish, these flatbreads are versatile and tasty.
Preheat oven to 200°c / 400°f / gas mark 6. Drizzle the flatbreads with the oil and spread with the caramelised onion chutney, slices of pear and top with the blue cheese and goats' cheese.
Place on a large oven tray lined with non-stick baking paper and cook for 8–10 minutes or until golden brown and the cheese has melted.
Serve with a fresh green salad.