Prosecco, Pear & Elderflower Cupcake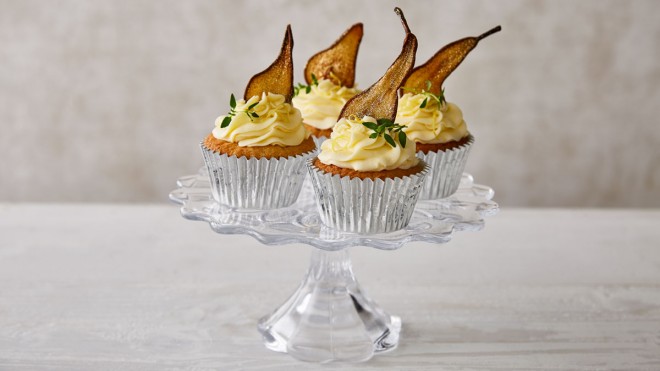 12 servings
25 minutes to cook, 10 minutes to prepare
Ingredients
For the sponge
3 eggs
150g caster sugar
150g butter
150g self raising flour
1/2tsp baking powder
1tbsp elderflower cordial
1 conference pear, peeled and finely chopped
For the buttercream
125g butter
250g icing sugar
1tbsp prosecco
For the decoration
12 thin slices of dried pear
Gold edible glitter
Sprig of thyme
Fine lemon zest
Instructions
The ultimate elegant cupcake to impress.
Method
For the decorative pears
It would be best to prepare the decorative pear slices the day before you need them.
Thinly slice the pear, then place onto a parchment paper lined baking tray. Place in a cool oven (100c) for 3-4 hours or until dry, then leave to cool and harden. Sprinkle with glitter shortly before use.
For the Cakes
Preheat your oven to 140°c/285°f and prepare a cupcake tin with 12 american size cupcake cases.
Add all the cake batter ingredients except the pear into a mixing bowl and mix well until pale and creamy.
Place a spoonful of batter in the bottom of each cupcake case, then add a sprinkling of pear pieces and cover over with the remaining batter
Place in the oven and bake for 25 minutes or until cooked, test by inserting a skewer or cocktail stick, when it comes out clean it's cooked.
While the cakes are cooking, make the buttercream. Start by whisking the butter until light and fluffy. Then gradually add the icing sugar until it's all incorporated. Then gradually add the prosecco.
Remove the cakes and allow to cool completely before piping with the buttercream.
Decorate with the pre-prepared pear slices, sprig of thyme and a sprinkling of lemon zest.
Chefs Tip
You can cook and puree the pear as a filling if you prefer and add a little more elderflower for a stronger floral flavour.
If you're using a mixer to blend your buttercream, cover the mixing bowl with cling film or a damp tea towel when mixing to prevent an icing sugar dustcloud!