Lakeland Lamb Sandwich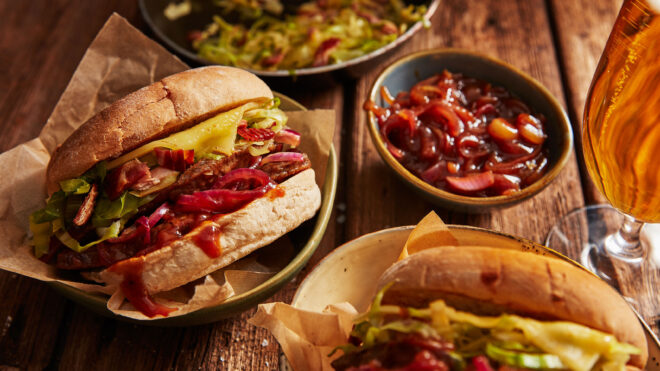 4 servings
10 minutes to prepare
Ingredients
4 Lakeland lamb leg steaks
2 tbsp honey
1 tbsp olive oil
1 red onion, finely sliced
Sprig rosemary
300ml lamb gravy
4 rashers of bacon, cut into lardons
1/4 small cabbage, shredded
4 bread buns
100g Gouda
Salt and pepper
Instructions
Method:
Marinate the lamb in the honey for about 30 minutes or overnight.
Heat the oil in a pan and cook the onions for a few minutes until soft. Then add the honey glazed steaks along with the rosemary and cook for a further 3-4 minutes. Remove the lamb and allow to rest for a further 3-4 minutes.
Meanwhile, heat the gravy in the pan that you have removed the meat from and bring to a boil.
In a separate pan, cook the bacon lardons until crispy and add the cabbage with a splash of water and pop the lid on to allow it to steam.
When the gravy is boiling add the lamb back in and turn off the heat.
Using a griddle pan toast the sliced buns, for a minute or so on each half. Layer on the the cabbage and bacon, add the Gouda and place the bun lid on. Pop back into the griddle pan for a minute or two to allow the cheese to become oozy.
Chefs Tip:
This sandwich is great for using up left over Sunday roast vegetables. Maple syrup would work just as well for that sweet kick of flavour.