Roast Lamb with a Parmesan Crust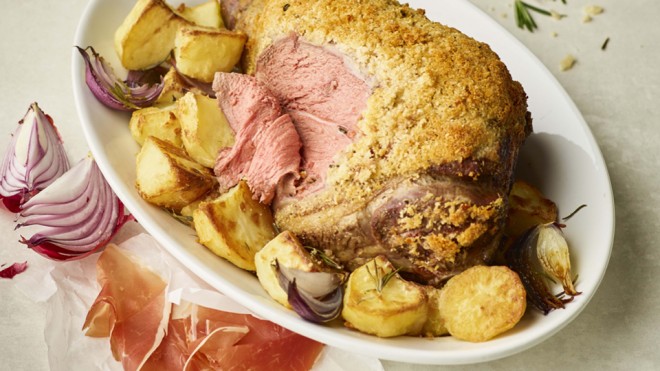 8 servings
3 Hours to prepare
Ingredients
2kg leg of lamb
Pack Parma ham
3 sprigs rosemary, broken up into small sprigs
2tbsp olive oil
100g fresh breadcrumbs
70g Parmesan cheese, finely grated
300ml white wine
Instructions
1 Preheat the oven to 180°C / fan 160°C / gas mark 4. With a sharp knife, make lots of incisions all over the lamb. Cut the Parma ham into strips and insert the strips into the incisions along with the rosemary sprigs using a knife.
2 Rub the olive oil all over the lamb, season with salt and ground black pepper then place into a large roasting tin. Mix the breadcrumbs and the Parmesan together in a bowl, then press all over the lamb until it's completely coated packing it down well with your hands.
3 Pour the wine into the bottom of the tin, cover the lamb loosely with foil then carefully place into the middle of the preheated oven and roast for 2½ hours.  Top up with more wine or water during cooking so the bottom of the tin doesn't dry out. Remove the foil and roast for a further 10 minutes until the crumb coating is crunchy and golden.
4 Leave the lamb to rest for 10-15 minutes before carving. Serve with roasted potatoes with red onion and garlic.