Halloumi and Chips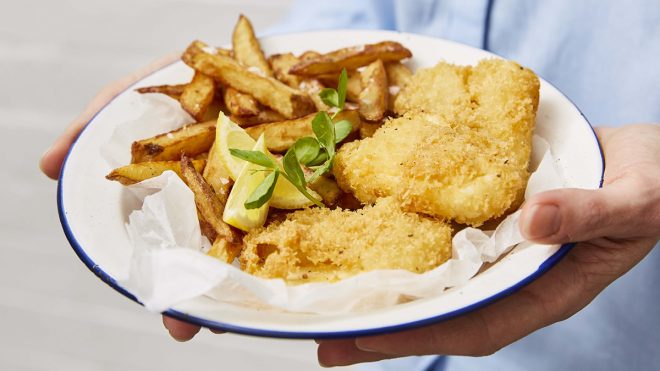 4 servings
30 minutes to prepare
Ingredients
For the batter
75g plain flour
1tsp baking powder
125ml milk
1/2 lemon, zest and juice
2x 250g halloumi cheese
100g panko breadcrumbs
pepper
For the chips
4 large red potatoes
1tsp sea salt
To fry
2 litres sunflower oil
To serve
4 lemon wedges
pea shoots
Instructions
For a delicious vegetarian alternative to fish and chips, why not try our halloumi and chips? Also, make sure you take a look at our chef's tip to see how you can add a spicy twist to the dish if you wish!
Method
To make the batter, place the flour and baking powder into a bowl. Mix to combine.
Make a well in the centre and slowly add the milk, whisking to prevent lumps.
Add the lemon zest and juice. Mix well and set to one side.
For the chips…
Cut each potato into chips approximately 1 cm wide.
Heat the oil in a large heavy bottomed saucepan over a medium high heat to approximately 140°
Once the oil has reached temperature, add the chips and cook for 8 minutes. Remove and place on a baking tray lined with kitchen paper to cool.
For the halloumi…
Cut each block of halloumi into 6 evenly sized pieces.
Place the panko breadcrumbs into a shallow bowl and season with pepper.
Dip the halloumi first into the batter then into the panko to coat.
Fry the battered halloumi for 5 minutes or until golden brown. Remove and place on kitchen paper and keep warm.
Reheat the oil to 180°
Return the cooled chips to the pan and cook for a further 3 minutes or until golden brown. Remove and place on a clean piece of kitchen paper. Scatter over the sea salt and toss to combine.
Serve the halloumi and chips with lemon wedges and pea shoots to garnish.
Or to make in an air fryer…
Dip the halloumi in the batter then fully coat in breadcrumbs.
Cook in the air fryer on 200º for 10-12 minutes
Chefs Tip
Why not add a tablespoon of Cajun spice mix to the batter flour and serve with lime wedges for a spicy twist on this recipe.