Jewelled Potato Salad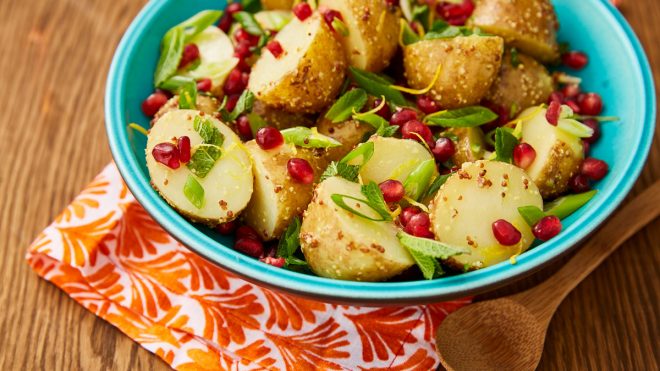 4 servings
30 minutes to prepare
Ingredients
600g Maris Bard potatoes, scrubbed clean and halved
3tbsp olive oil
1 pomegranate
10g mint, chopped
3 spring onions
1 lemon, zest and juice
1tbsp wholegrain mustard
Salt & pepper
Instructions
The perfect way to enjoy any new season potatoes, we've chosen Maris Bard, which we always have in as 'dug today' for a period during the Spring. Sean Mallinson digs them up early in the morning and delivers to store the same day so they're fresh as can be – read more here.
Method
Bring a pan of salted water to the boil. Add the potatoes and cook until tender; approximately 15 minutes.
Remove the seeds from the pomegranate and place into a bowl. Add the remaining ingredients and mix well.
Once the potatoes are cooked, remove from the heat and drain. Rinse under cold water to cool slightly and add to the mixing bowl. Stir to combine and season to taste.
Spoon into a serving bowl and enjoy!
Chef's Tip
This can be served warm or cold, perfect for picnics. Try serving this side dish with Easter lamb for a Spring twist on traditional roast potatoes. Swap the potatoes in this recipe for Pilau rice to make a Persian rice salad.