Star of the North Lamb Hotpot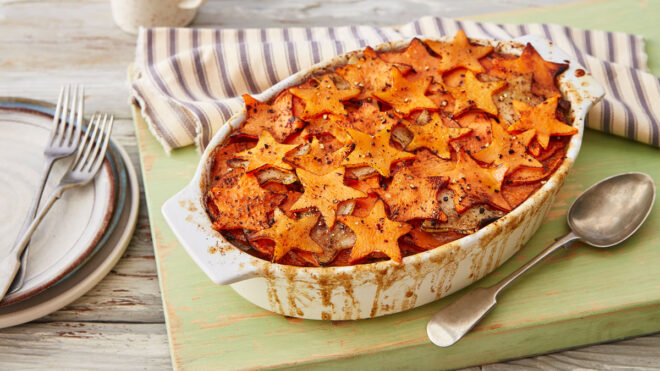 8 servings
5 hours to prepare
Ingredients
800g lamb shoulder
600g lamb chops, on the bone
2ltrs chicken stock
3 carrots, chopped
2 onions, chopped
2 sticks celery, chopped
5 garlic cloves, crushed
3/4tbsp chinese 5 spice
30ml sherry vinegar
20ml Worcestershire sauce
3 large baking potatoes
2 large sweet potatoes
100g melted butter for brushing
Olive oil
Salt and cracked black pepper
Instructions
What's a more Northern way to feed a crowd than a lamb hotpot? This recipe can be used with either lamb or mutton. The cooking times will be longer for the mutton – cook until the meat falls off the bone.
Method
Season the lamb then in a large saucepan over a medium-high heat, with a little olive oil, fry the lamb on all sides until well browned and remove from the pan.
Reduce the heat to medium, add the onions and allow to caramelise while stirring regularly. Add the carrots, garlic, celery and cook for 5 minutes. Add the Chinese 5 spice and cook for 1 minute. Add a splash of the sherry vinegar and Worcestershire sauce and cook for a further 1 minute.
Add the stock and the meat. If the liquid needs topping up to cover the meat use water. Bring to a simmer, cover with a lid and cook for 4 hours or until the meat falls off the bone.
Remove the meat and turn up the heat to reduce the liquid to a sauce consistency. Once the sauce is the correct consistency check for seasoning and adjust using the sherry vinegar, Worcestershire sauce, salt and pepper.
Pre-heat the oven to 160C fan /180C / gas mark 4. Pick the meat off the bone and break down to bite sized pieces. Peel and slice the baking potatoes and cut into discs. Peel and slice the sweet potatoes and cut into stars of different sizes. Place the meat and sauce in an oven dish and top with the potatoes.
Brush with butter and season. Bake at 160C fan /180C / gas mark 4 until the potatoes are cooked and starting to crisp, approx 20 minutes.