Spiced Quinoa Falafel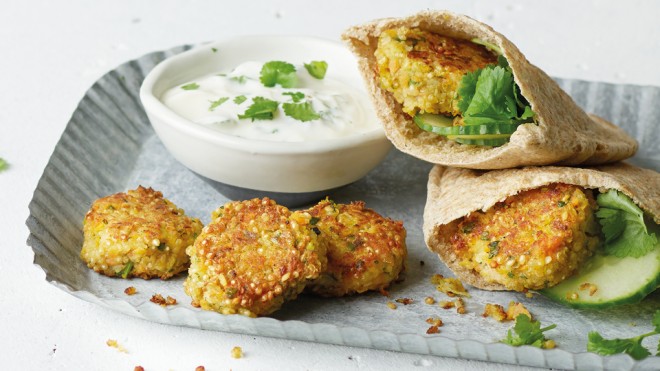 4 servings
30 Minutes to prepare
Ingredients
2 medium carrots
1 bunch spring onions, washed and prepared
400g can chickpeas, drained
1 large handful coriander
1tsp ground cumin
1tsp ground coriander
1tsp cayenne pepper
2tbsp toasted seasame seeds
1 clove garlic
120g pre-cooked quinoa
Instructions
1. Place the carrots and spring onions into a food processor and blitz until finely chopped.
2. Add the chickpeas, fresh coriander, ground cumin, coriander, cayenne pepper, toasted sesame seeds and garlic then blitz until you have a smooth paste. Season well.
3. Place the mixture into a bowl, then stir in the cooked quinoa and leave to rest in the fridge for 15 minutes.
4. Shape into small round discs. Heat the rapeseed oil in a large frying pan and cook for 3 – 4 minutes all over until golden.
Serve in a warm wholemeal pitta with fresh coriander, sliced cucumber and a lemon and yoghurt sauce.