Christmas Cake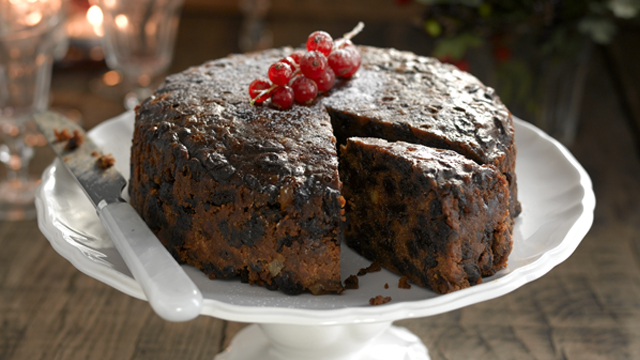 7 servings
240 minutes to prepare
Ingredients
625g currants
225g sultanas
225g raisins
150g glacé cherries
125g mixed peel
125g blanched almonds
Rind of 1 lemon
400g plain flour
1½ tsp ground cinnamon
1tsp ground mixed spice
350g butter (softened)
350g light soft brown sugar
5 free range eggs
1tbsp black treacle
75ml brandy
75ml Lancaster Bomber Ale
You will need a 25½cm (10") tin(round or square) which is available from all larger Booths stores
Instructions
Pre-heat your oven to 150°C / Gas mark 2.
Place the currants, sultanas, raisins, brandy and Bomber Ale into a bowl and mix so all the fruits take on the alcohol.
In a separate large mixing bowl add the butter, brown sugar and treacle and beat until light and fluffy. Now add the eggs one at a time, beating well with each addition. Fold in the spices, lemon, almonds and soaked dried fruits mixing thoroughly.
Finally sieve the flour over the bowl and gently fold into the batter. Transfer the mixture to your lined baking tin smoothing off the top. Place onto the middle shelf of the oven and cook for approximately 3½ hours.
To check if the cake is ready insert a skewer and if it comes out clean it is ready. If not ready pop it back in the oven for another 10 mins and repeat with a clean skewer.
For an even richer and moister cake, make it in advance, prick all over with a skewer and slowly pour over 50ml of brandy, once a week.
Place into an airtight container (it will keep for 2-3months). Garnish with candied fruits and nuts to serve.
Our top tips…
Softening the butter will help stop the mixture curdling when adding the eggs.
For best results double line your baking tin with baking paper.
For an even richer cake, pre-soak the fruit in alcohol for longer.