Mediterranean Meatballs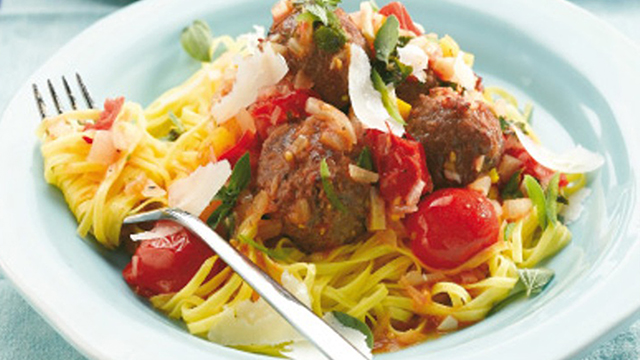 4 servings
45 mins to prepare
Ingredients
1 pack of Booths regional meatballs
150g fresh baby plum tomatoes, halved
1 medium onion, diced
1 yellow pepper, diced
A splash of dry white wine, Italian Soave or Frascati work well (pop the rest back to chill to go with the dish)
2 cloves of fresh garlic, finely chopped
Fresh oregano, a sprinkle, snipped
Salt and freshly ground black pepper
Olive oil
Parmesan shavings
Optional...
A fresh chilli, chopped finely, or a pinch of dried chilli flakes, if you want the dish to be hot and spicy
Instructions
Cook the meatballs off in a frying pan, using a little olive oil to prevent them sticking, or under the grill, until they are browned all over.
In a separate pan, whilst the meatballs are cooking, pour a drizzle of olive oil, and when it is warm, pop in the chopped onions and cook until translucent, but not brown.
Once the onions are cooked, add the chopped pepper, tomatoes, garlic, and chilli, if you are using it and cook off until everything is softened.
Turn up the heat and add the splash of white wine, cooking for about 30 seconds before turning off the heat.
5. Add the herbs and seasoning and serve over the cooked meatballs topped with shavings of Parmesan.