Lamb with Redcurrant & Mint Glaze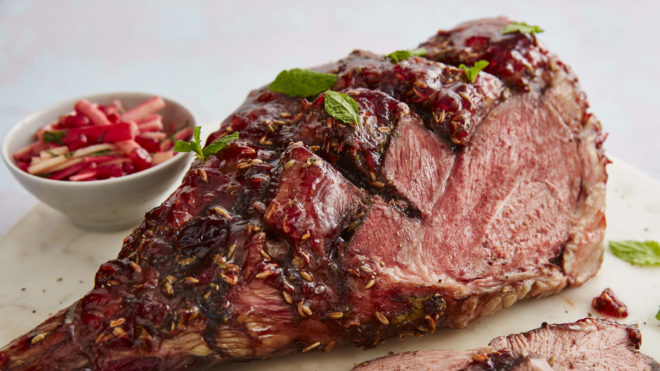 6 servings
15 Mins to prepare
Ingredients
For the Lamb
2kg lamb leg
300g redcurrant jelly
10g mint leaves, chopped
1 tbsp fennel seeds
1/2 lemon, juice only
1/2 tbsp salt
For the Rhubarb Slaw
200g rhubarb
1 tbsp red wine vinegar
1 tsp Dijon mustard
2 tbsp olive oil
1 tbsp honey
1 tbsp red currant jelly
Salt and Pepper
2 tbsp pomegranate seeds
5g mint leaves, chopped
Extra mint leaves to garnish
Instructions
1 Pre-heat the oven to 100°C (fan) / 200°F / gas mark ½.
2 For the lamb, mix the redcurrant jelly, mint, fennel seeds, lemon juice and salt in a bowl.
3 Score the lamb leg in a criss-cross pattern. Spoon the mixture onto the lamb leg. Place in the oven and slow cook for 5 hours.
4 To make the rhubarb slaw, cut the rhubarb into matchsticks. Place the vinegar, mustard, oil, honey and redcurrant jelly into a bowl and mix well. Season to taste.
5 Add the chopped rhubarb, pomegranate seeds and mint to the bowl and toss to combine.
6 Serve the lamb on a platter and garnish with mint leaves. Serve the slow cooked lamb with a side of tangy rhubarb slaw and extra redcurrant jelly.