Slow Cooked Lamb Shoulder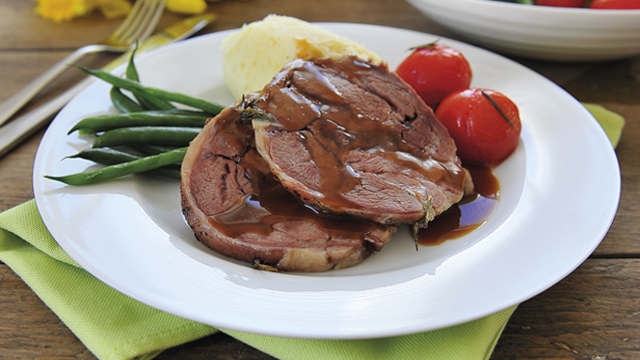 4 servings
930 minutes to prepare
Ingredients
2.5kg boneless shoulder of lamb
110g course sea salt
10g picked rosemary (small sprigs)
25g sliced peeled garlic (cut the cloves into 3, lengthways)
8 fresh baby plum tomatoes
Roast gravy
250g banana shallots, sliced
350ml Madeira
1litre lamb stock
750ml chicken stock
50g chilled butter in cubes
Instructions
Take the shoulder of lamb and salt overnight (approximately 12 hours).
Pre heat oven to 140°C, 275°F, Gas Mark 1.
Wash off the excess salt under cold running water then dry the shoulder thoroughly with a kitchen roll then make small incisions on both sides of the shoulder and stud with the rosemary and garlic.
Place the lamb in a large roasting bag*, seal and pop in a roasting tin and cook for 3 to 3.5 hours.
Remove lamb from roasting bag (ensuring you keep the juices from the bag) and place on a warm plate or rack to rest lightly covered with tin foil.
In a pan, sweat off the shallots until golden brown, add the Madeira and reduce by three quarters.
Add the lamb stock, chicken stock and juices from the bag and reduce again until you have the desired consistency then pass through a sieve and place back into the pan bringing it to the boil and whisk in the butter.
When ready slice the lamb, serve with mashed potatoes, green beans and roasted tomatoes and pour over the hot gravy.