Thai Inspired Lamb Salad with Crispy Noodles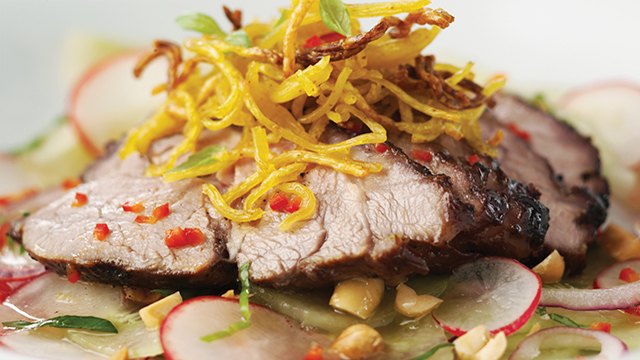 Ingredients
2 lamb neck fillets, trimmed of excess fat
2tbsp soy sauce
1tbsp honey
For the salad
1 cucumber, peeled and thinly sliced
1 bunch of radish, thinly sliced
1 red onion, peeled and thinly sliced
20 basil leaves, shredded
2 red chillies, de-seeded and shredded
50g cooked egg noodles
1tbsp sunflower oil
1tsp sesame oil
25g peanuts, roughly chopped
For the dressing
60ml lime juice
1tsp lime zest
2tbsp fish sauce
2tsp sugar
1tsp finely grated fresh ginger
Instructions
Pre-heat your oven to 190*c / gas 5.
The first thing you need to do is marinate the lamb by mixing the soy sauce and honey together and brushing all over the lamb. Leave for an hour or so, basting every so often.
To make the crispy noodles, lightly toss the noodles in sunflower oil and sesame oil, place onto a baking tray in a single layer and cook in the oven until crisp. Leave to cool.
For the lamb heat a little sunflower oil in a frying pan, seal the lamb on all sides and pop onto an oven tray and cook for about 10 minutes, leave to rest.
For the salad, take a mixing bowl add the peeled and sliced cucumber, radish, red onion and basil leaves, lightly toss. Make the dressing by simply mixing all the ingredients together in a small bowl. Pour over the salad and mix well. Arrange the salad on a serving platter, scatter over the peanuts. Thinly slice the lamb and arrange over the salad. Finally scatter over the crispy noodles and serve.