Minty Lamb Cobbler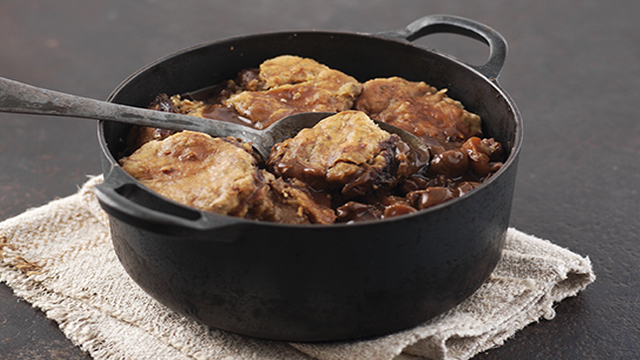 6 servings
2 hours 25 minutes to prepare
Ingredients
900g lamb neck fillets, cut into chunks
200g smoked streaky bacon, cut into chunks
1tbsp sunflower oil
350g shallots, peeled and halved
4 carrots cut into chunks
350g small button mushrooms
2tbsp plain flour
1tsp chopped fresh thyme
1tbsp mint sauce
3 bay leaves
350ml red wine
350ml lamb or beef stock
1tbsp Worcestershire sauce
FOR THE TOPPING
350g self-raising flour
2tbsp of finely chopped fresh herbs such as thyme, rosemary and parsley
200g chilled butter
3tbsp water
1 egg
Instructions
Preheat the oven to 180°c / gas 4.
In a casserole dish or pan, fry the bacon in the sunflower oil until it starts to brown, add the lamb and continue frying until the lamb is nicely browned then with a slotted spoon remove to a plate. Next add the shallots, carrot and mushrooms and fry until they start to colour. Add the meat back to the pan along with the flour and stir. Add the red wine, stock, thyme, bay leaves, mint sauce and Worcestershire sauce. If using a pan, transfer to a casserole dish and cover. Cook in the oven for about 1 hour 15 minutes.
Whilst the casserole is cooking make the topping. Tip the flour into a bowl with the chopped herbs, season with salt and milled pepper. Add the chilled butter in cubes and rub together until you have a crumb. Add the water and gently bring together to form a soft dough. Lightly roll on a floured surface to about .cm thick, cut out circles using a 7cm cutter. You can re-roll the trimmings gently to make more dumplings.
After 1 hour 15 minutes, remove the casserole from the oven and place the dumplings on top. Brush with a little beaten egg or milk and bake for a further 40 minutes until the dumplings are golden.
This recipe can also be made using trimmed and diced lamb shoulder or leg.