Spiced Saltmarsh Lamb Kebabs with Greek Salad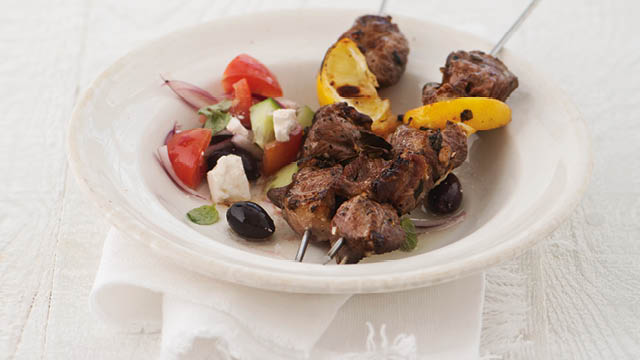 4 servings
40 mins to prepare
Ingredients
500g Cumbrian saltmarsh lamb, cubed
1 tbsp olive oil
1/2 tsp cinnamon
2 lemons, cut into wedges
2 tsp chopped fresh oregano
12 bay leaves
3 garlic cloves, crushed
Salt and milled pepper
1/2 cucumber, peeled and chopped
3 tomatoes, roughly chopped
1 small red onion, finely sliced
100g feta cheese, cubed
50g black olives
1 tbsp fresh chopped oregano
2 tbsp extra virgin olive oil
Instructions
The first thing to do is place the lamb into a mixing bowl, add the olive oil, cinnamon, oregano, garlic, lemon wedges and season with salt and milled pepper then simply mix until well combined. Leave the flavours to work into the lamb, the longer you leave it the more flavoursome the lamb.
After 1-2 hours, thread the lamb onto skewers with the lemon wedges and the odd bay leaf. Cook the lamb kebabs on a barbecue or grill for 15-20 minutes, ensuring that the juices run clear. Leave to rest on a warm plate for 5 minutes.
For the salad simply place all the ingredients into a bowl and mix well.
Serve your spiced kebabs with the Greek salad and some toasted pitta.