Slow Cooker Persian Lamb Cushion with Pistachio Rice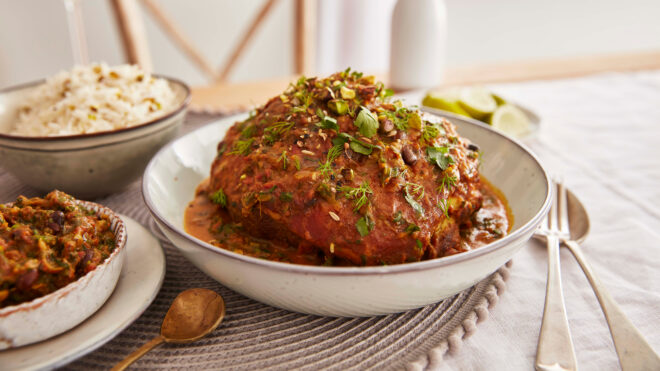 6 servings
30 minutes to prepare
Ingredients
1 Booths British Boneless Lamb Cushion (found on the Butcher Counter)
50ml vegetable oil
4 garlic cloves, crushed
1 onion, diced
1/2 leek, sliced
2tsp turmeric
1tsp chilli flakes
1tsp coriander seeds, crushed
1ltr chicken stock
400g tin kidney beans
400g tin chopped tomatoes
1 bunch parsley, chopped
1 bunch coriander, chopped
1 bunch chives, chopped
2 limes, juice and zest
200g basmati rice
75g pistachios, chopped
Salt and pepper to taste
Instructions
Method:
1. Fry the lamb cushion in oil on all sides in a heavy bottom pan until it browns, season with salt and pepper then add to the slow cooker.
2. Add the garlic, onion, leek, turmeric, chilli flakes and coriander seeds to the slow cooker and stir.
3. Add the chicken stock, kidney beans and crushed tomatoes then cook on low until the lamb is tender, we recommend 6 hours.
4. Add the chopped herbs to the dish.
5. Add the zest and juice of the limes and season.
6. Cook the rice as per pack instructions and fold in the pistachio nuts, reserving a few to garnish.
7. Serve the lamb with the basmati rice topped with chopped pistachio nuts.
Chef's Tip
Add 2tsp of rose water to the sauce for a more authentic finish to the dish.