Exotic Mushroom & Rice Soup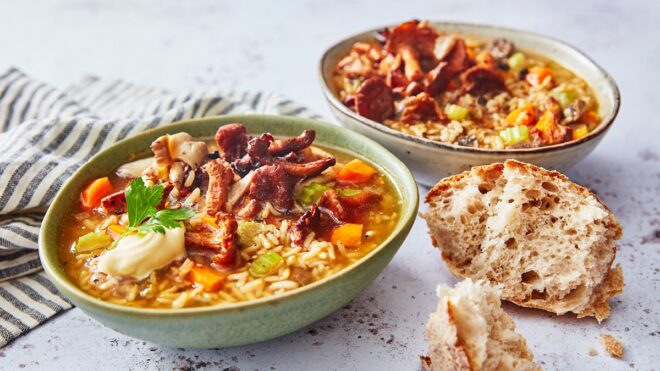 4 servings
10 mins to prepare
Ingredients
2 tbsp olive oil
1 onion, finely diced
1 carrot, finely diced
1 stick celery, finely sliced
2 cloves of garlic, mined
500g mushrooms (we used a variety)
250ml dry white wine
1/2 cup of brown rice
1 tsp paprika
Handful of fresh thyme
To serve
Crème fraîche
Fresh parsley
Instructions
METHOD
Heat the olive oil in a pan and sauté the onion, carrot and celery for
2-3 minutes until soft.
Add the garlic and mushrooms (reserve a few for garnish) and cook for a further 2 minutes.
Then add the wine and fresh thyme and simmer for 10 minutes.
Add the rice, paprika and the stock and simmer for a further 20 minutes.
Serve with some crusty bread, a dollop of crème fraîche and a sprig of parsley.
Chef's tip
Try to avoid stirring the mushrooms too much in the pan as this can make them chewy and bland.