Rafi's Vegan Curry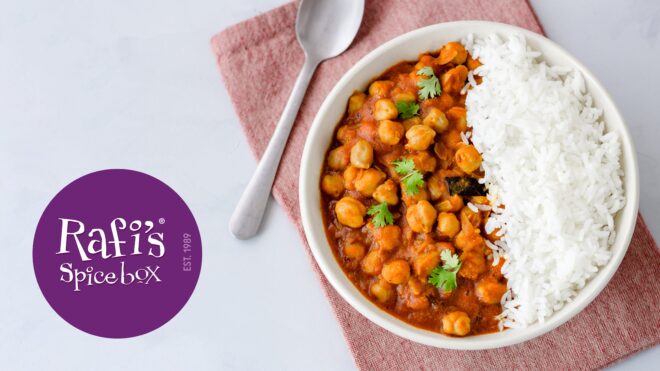 2 servings
15 mins to prepare
Ingredients
1 packet of Rafi's Spicebox Chana Masala Mix
3 tbsp oil (vegetable or sunflower)
1 finely chopped onion
500g chickpeas or butter beans
1 tin of chopped tomatoes (or 3 large fresh copped tomatoes)
100ml water
A squeeze of lemon juice
Fresh coriander leaves to garnish
Instructions
METHOD
Gently heat the oil and fry the chopped onion until it is soft and transulcent.
Empty Rafi's Spicebox Chana Masala pack into the pan with a tin of tomatoes (or 3 fresh chopped tomatoes) and 100ml water, then gently cook for 10 – 12 minutes.
Add 500g of chickpeas or butter beans and cook for a further 2-3 minutes, until hot.
Season with salt, to taste, and garnish with a squeeze of lemon juice and fresh chopped coriander leaves.