Greek Lamb and Orzo Stew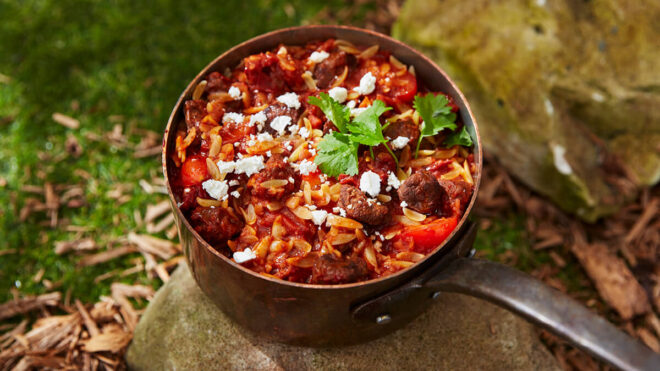 6 servings
10 minutes to prepare
Ingredients
400g lamb, diced
1 red onion, diced
2 cloves of garlic, finely chopped
1tsp dried oregano
1tsp paprika
1tsp cinnamon
1tsp chilli flakes
250ml red wine
8 sundried tomatoes, sliced
100g baby plum tomatoes, halved
100g mushrooms
800g passata
150g orzo
100g feta cheese
Instructions
Method:
Heat a drizzle of oil in a pan and add the lamb, cook until nicely browned.
Remove the lamb and set aside.
Using the same pan fry off the onion and garlic until softened.
Add the oregano, paprika, cinnamon and chilli flakes and cook for a further 1-2 minutes.
Add the lamb and red wine and simmer until the liquid has reduced by half.
Then add the sundried tomatoes, baby plum tomatoes, mushrooms, passata, and 250ml of water and simmer for a further 25-30 minutes.
Add the orzo and cook for a further 5-10 minutes.
Serve with a sprinkling of herbs and feta cheese.
Chefs Tip:
A fantastic make ahead stew perfect for an evening around the campfire. Pork or beef will work just as well.