Vegan Jackfruit Tagine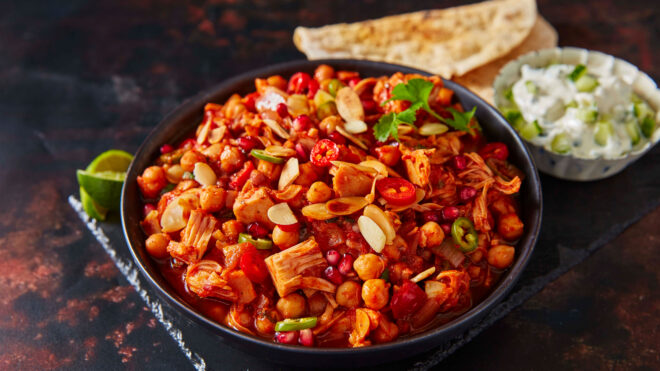 4 servings
15 minutes to prepare
Ingredients
2tbsp olive oil
1 large onion, finely chopped
565g tin of young jackfruit in brine, drained
2 garlic cloves, finely chopped
2tbsp tomato puree
1tbsp soy sauce
400g tin of peeled plum tomatoes
1 vegan vegetable stock cube
1/2 tsp coarse sea salt
1-2 tsp chilli flakes
400g cooked chickpeas
1tsp maple syrup
1tbsp pomegranate molasses
Handful of chopped corander, to serve
Pomegranate pearls, to serve
Toasted almond flakes, yo serve
1/2 unwaxed lime, to serve
Instructions
Method:
Heat up the oil in a heavy-bottomed pot.
Add the diced onion and fry it off gently until almost translucent, stirring from time to time.
Add the jackfruit pieces and squash down with a fork so that the fibres separate.
Add the chopped garlic and cook for another 1-2 minutes.
Stir in the tomato puree, soy sauce, peeled plum tomatoes and their juices, vegan stock cube, salt, chilli and 240ml of water.
Simmer on a low-medium heat for about 20-25 minutes until the tomato flesh breaks down and excess moisture evaporates, give the mixture a good stir from time to time. If the tomatoes are still chunky but the pot is starting to look a bit dry, be sure to top it up with more water. Simmer until the tomatoes are broken down and the sauce reaches the thickness you like.
Add in the cooked chickpeas and maple syrup towards the end of the simmering time.
Stir in the pomegranate molasses just before serving. Then spoon into dishes and sprinkle with coriander, pomegranate pearls, toasted almond flakes and a squeeze of lime and serve with vegan flatbreads.
Chefs tip:
Making this a day ahead will allow the flavours to mature.