One Pot Cod Supper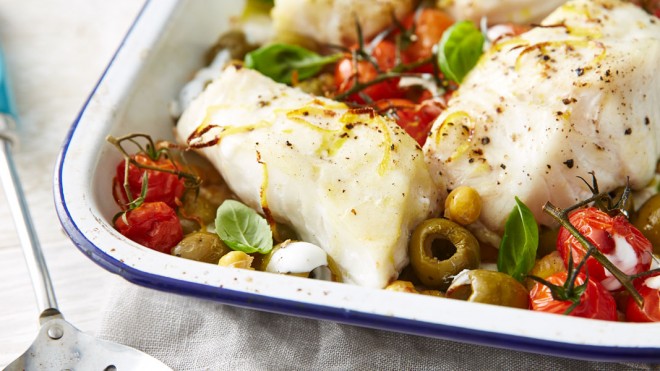 4 servings
25 minutes to prepare
Ingredients
400g chickpeas, drained
200g pitted green olives
450g vine tomatoes
100ml white wine
4 cod fillets, approximately 200g each, skin removed, or other firm white fish of choice
2tbsp lemon infused rapeseed oil
1 lemon, zest only
Salt and pepper
2tbsp creme fraiche
Basil leaves to garnish
Crusty bread to serve
Instructions
Pre heat the oven to 170°C (fan)/375°F/gas mark 5.
Place the chickpeas, olives, vine tomatoes and white wine into a large oven proof dish.
Place the cod fillets on top. Drizzle with the rapeseed oil and scatter over the lemon zest. Season well with salt and pepper.
Roast for 20 minutes or until the fish is cooked.
Place the cod and roasted tomatoes onto warmed serving plates. Add the crème fraiche to the oven dish and mix to combine.
Spoon the chickpea and olives over the cod and drizzle with the extra sauce.
Garnish with fresh basil leaves and serve with crusty bread to mop up the juices.
Chefs Tip 
Make this recipe your own, swap the cod for any thick white fish or even salmon. Add a pinch of chilli flakes and a tin of tomatoes for a Mediterranean twist.