Rolled Venison Casserole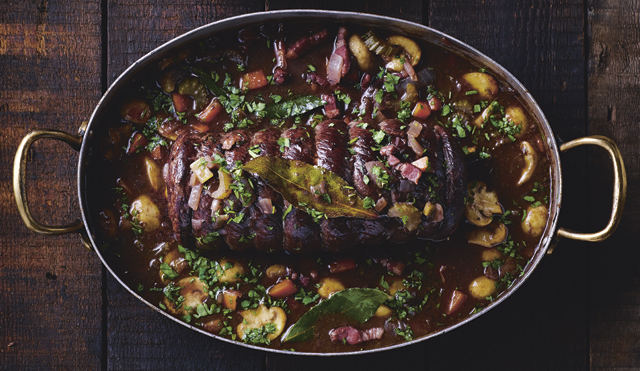 4 servings
Cook 1 hour, 15 minutes to prepare
Ingredients
1 tbsp olive oil
70g bacon lardons
1kg rolled venison haunch
1 medium onion, finely chopped
2 sticks celery, finely chopped
1 bay leaf
Few sprigs fresh thyme
200g flat mushrooms, sliced thickly
2 tbsp plain flour
200ml red wine
300ml beef stock
2tbsp redcurrant jelly
Instructions
1 Pre-heat the oven to 180ºC/fan 160ºC/gas mark 4. Heat the olive oil in an ovenproof sauté pan or roasting tin and cook the bacon lardons for a few minutes until they are golden. Remove from the pan with a slotted spoon and then add the venison haunch and brown all over in the hot oil. Set aside.
2 Add the onion, celery, carrot, bay leaf and thyme to the pan and cook for about 5 minutes until they begin to soften. Add the mushrooms and cook for a further 3 minutes. Return the bacon lardons to the vegetables and then add the flour and cook for just a minute. Stirring all the time add the wine and stock then stir in the redcurrant jelly.
3 Return the venison to the dish and roast for 45 – 50 minutes until the sauce is thickened and reduced.