Chilled Yorkshire Pea, Watercress and Cumbrian Ham Soup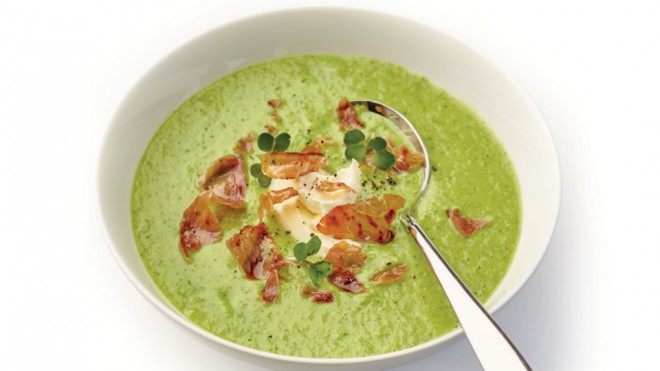 4 servings
25 Minutes to prepare
Ingredients
100g dry cured Cumbrian ham
700g Yorkshire garden peas
65g watercress
25g fresh mint
1 bunch spring onions, finely chopped
1 medium potato, diced
Juice half a lemon
3tbsp crème fraîche
1 knob of butter
1tbsp olive oil
1 litre hot vegetable stock
Instructions
1 Heat the olive oil and butter in a medium saucepan and cook the spring onions for 1 minute then tip in the potatoes and cook for a further minute. Pour in the stock and simmer for 7 minutes until the potato is tender.
2 Add the peas and cook for 1 minute then remove from the heat and add the watercress, mint and lemon juice. Stir together until wilted down then blend using a hand-held blender until smooth. Stir through a tablespoon of the crème fraîche then season with a little salt and ground black pepper. Leave to cool completely before placing in to the fridge to chill.
3 When ready to serve the soup prepare your ham by slicing it as finely as you can. Then heat a small frying pan on the hob, add the slices of ham and cook for 1 minute each side until golden and crispy. Transfer to a plate to cool.
4 Serve the soup topped with a spoonful of crème fraîche with the crispy Cumbrian ham sprinkled over the top and a few extra leaves of watercress for garnish.
CHEF'S TIP This chilled soup is delicious on a hot summer's day but also tastes great served hot if the weather takes a turn.