Louise O'Hara's Leftover Gammon & Pea Soup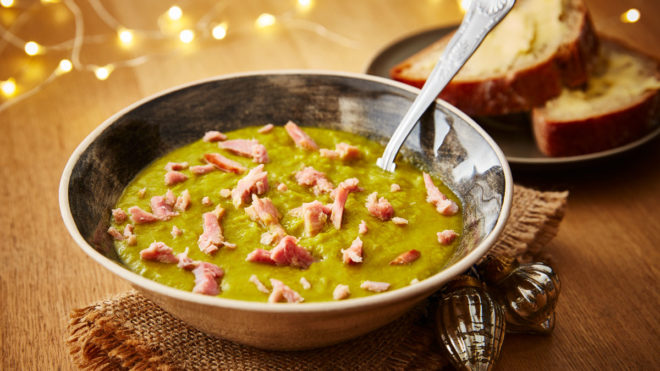 6 servings
30 minutes to prepare
Ingredients
Olive oil
1 large onion, diced
1-2 potatoes, peeled and diced (occasionally I mix it up with 1 sweet potato instead for extra sweetness and more vitamins than a standard potato)
2 carrots, peeled and diced
500g petit pois
1200ml ham stock - I like the Knorr ham stock cubes, and you can use a couple for extra flavour
All the gammon you have left, shredded
Instructions
This hearty homemade soup from our HQ colleague Louise is perfect to get some extra goodness into you during the festive period, and use up any leftover gammon.
Fry the onion in olive oil until soft and translucent.
Add the diced potatoes, carrot and stock, then bring to the boil.
Simmer until the veg is almost cooked, then add the peas and simmer for 3-5 mins.
Blend, and serve topped with the leftover pulled gammon.
Best served with warm crusty bread and salted butter.