Chilled Yorkshire Pea, Watercress and Mint Soup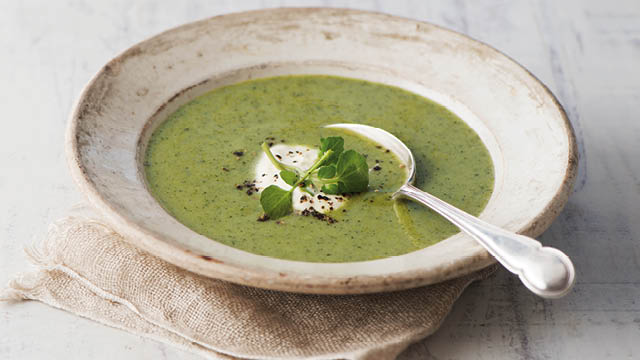 4 servings
15 mins to prepare
Ingredients
700g fresh or frozen Yorkshire garden peas
1 medium potato, diced
65g watercress
25g fresh mint
1 bunch spring onions, finely chopped
2 tbsp dry white wine
25g butter
800ml hot vegetable stock
Juice 1/2 lemon
1 packet blinis
1 packet smoked salmon
Few sprigs watercress
Creme fraiche
Instructions
Melt the butter in a medium saucepan and cook the spring onions for a few minutes until soft. Now add the white wine, cook for 1 minute before adding the vegetable stock and diced potato, bring to the boil and cook for 5 minutes.
Next add the peas and cook for a further 2 minutes, then remove from the heat. Add the watercress, mint and lemon juice and carefully blend until smooth. For a smoother soup, pass the soup through a sieve. Season and leave to cool completely before popping in the fridge to chill.
To serve, divide between bowls and top with a dollop of crème fraiche and a little watercress. Place 3-4 smoked salmon blinis on the side and enjoy.