Panzanella Salad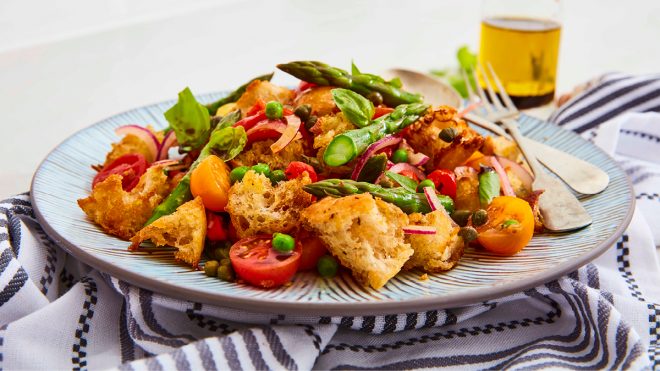 4 servings
15 mins to prepare
Ingredients
1/2 Lazonby focaccia bread, torn into bite sized chunks
1 tbsp olive oil
50g asparagus
50g frozen peas
250g Booths speciality tomatoes, halved
1/2 red onion, thinly sliced
100g roasted peppers, sliced
2 tbsp capers
For the vinaigrette
1 tbsp balsamic vinegar
3 tbsp olive oil
To garnish
Basil leaves
Instructions
METHOD:
Pre-heat the oven to 180°C (fan) / 200°C / 400°F / gas mark 6.
Place the torn focaccia bread into a bowl, add 1 tablespoon of olive oil and toss to coat. Place on a baking tray and cook for 10 minutes. Remove and set to one side.
Bring a pan of salted water to the boil. Add the asparagus and frozen peas, cook for one minute. Drain and plunge into a bowl of cold water. Drain and slice the asparagus in half.
For the vinaigrette, whisk together the balsamic vinegar and olive oil.
Add the tomatoes, all of the vegetables and capers to a bowl and toss lightly coating in the vinaigrette.
Arrange on a plate, top with the focaccia croutons and garnish with basil leaves.