Marmalade and Mustard Glazed Christmas Ham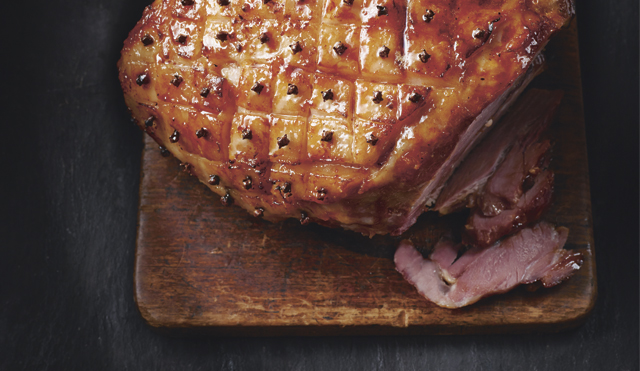 10 servings
Cooks 3 hours, 20 minutes to prepare
Ingredients
3-3.5kg boneless unsmoked gammon joint, tied with string
2 carrots, halved
2 celery sticks, halved
2 onions, halved
10 peppercorns
FOR THE GLAZE
4 heaped tbsp coarse cut marmalade
2 tsp english mustard
100g light muscavado sugar
24 whole cloves
Instructions
1 Place the gammon joint in a very large stock pot or preserving pan. Add the carrots, celery, onions and peppercorns. Pour over cold water to cover, bring to the boil and simmer gently, covered, for 2 1/2 hours, topping up with boiling water if it is needed.
2 Pre-heat the oven to 200°C/fan 180°C/gas mark 6. Carefully remove the gammon from the liquid and place in a roasting tin. Retain the cooking liquid for soups. Pat dry and leave to cool.
3 Place the marmalade, mustard and sugar in a bowl and mix together well to make a paste.
4 Remove the string from around the gammon and carefully trim away the skin, leaving an even layer of fat. Score all over the fat with a diamond pattern and stud with the cloves.
5 Spread the marmalade mixture all over the gammon and then bake for 25–30 minutes until the top is golden and sticky. Rest for 15 minutes before slicing.