Savoury Afternoon Tea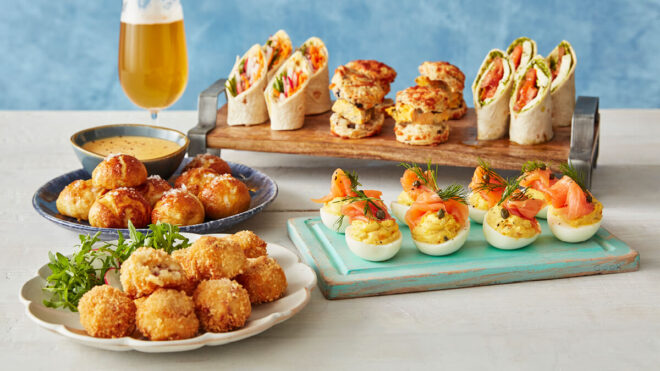 6 servings
20 minutes to prepare
Ingredients
Ham Croquettes
150g serrano ham, chopped into small pieces
1 bay leaf
75g butter
75g plain flour
500ml whole milk
150g manchego, grated
100g mature cheddar, grated
2 eggs, beaten
100g dried breadcurmbs
Nutmeg, grated
Groundnut oil, for deep frying
Pretzel Bites
150ml warm water
1tsp granulated sugar
2g dry active yeast
50g unsalted butter, melted
1tsp kosher salt
250g all-purpose flour
3tbsp bicarbonate of soda
2.5 litres water
1tbsp vegetable oil
1 egg yolk, beaten
25g unsalted butter
25g all-purpose flour
2 cups whole milk
1/2 cup dark German beer
2 cups cheddar, shredded
1 cup smoked cheddar, shredded
Kosher salt and pepper to taste
Smoked Salmon Devilled Eggs
6 eggs
300g smoked salmon
2tsp Dijon mustard
1tsp capers, plus a few extra to garnish
Few sprigs of fresh dill
1 Lemon, juice
1 shallot, finely diced
Salt and pepper to taste
Black Olive, Cheese, and Onion Scones
1 small white onion, finely diced
220g self-raising flour
1tsp baking powder
1tsp oregano
1tsp mustard powder
50g cold butter, cubed
150g mature cheddar, grated
Handful green olives, pitted and chopped
100ml milk
Houmous and Vegetable Wrap
3 tortilla wraps
3tbsp houmous
1 small carrot, julienned
6 raddishes, julienned
3 baby cucumbers, julienned
Pesto, Mozzarella and Tomato Wrap
3 tortilla wraps
1 buffalo mozzarella ball
3 tomatoes
3tsp pesto
Instructions
Ham Croquettes
Method
Heat a non-stick pan and fry the ham and bay leaf gently until any fat has melted off the ham, then take these out leaving the fat behind.
Add the butter to the pan and, when it has melted, stir in the flour to make a thick paste.
Gradually stir in the milk until you have a smooth sauce.
Place the bay leaf and ham back into the mixture and simmer over a low heat for 10-15 minutes.
Add the cheese and stir until melted, then add a good grating of nutmeg and season well.
Pour into a tray or dish, allow to cool, then chill completely in the fridge, this can take 2-3 hours.
Take out large teaspoonfuls of the mix and roll each into 3cm balls.
Put the beaten egg on one plate and breadcrumbs on another. Roll the balls in the egg then the crumbs, ensuring to cover them completely.
Fill a pan no more than ⅓ full with oil and heat to 180°C then deep fry the balls in batches for 2-3 minutes. Once crisp and golden, take out the croquettes and drain on kitchen paper (you can keep the cooked croquettes warm in a very low oven).
Chefs Tip:
You can freeze the balls for 30 minutes so they firm up a little more before frying them or freeze and cook at a later date.
Pretzel Bites
For the Pretzels:
Pre-heat the oven to 230°C/210°Fan/450°F/Gas Mark 8.
In a standing mixer bowl, add in the water and sugar then sprinkle the yeast on top and let it sit for 5 minutes or until it begins to foam.
Pour in the melted butter, salt and flour then knead the dough on high for 5 minutes.
Add the vegetable oil into a large bowl and place the dough into the bowl. Cover with a towel and rest until it doubles in size, this should take about an hour.
Before it is time to form the dough, put the 2.5 litres of water into a large pan adding in the bicarbonate of soda and bring to a boil.
To form the dough, roll it out until it is an 18" (45cm) to 24" (60cm) long rope. Cut into bite size pieces and set aside.
Turn down the boiling water to a simmer and cook each pretzel dough 1 at a time for 30 seconds each and then place back on a baking sheet lined with parchment.
Once all the pretzel bites have been cooked in the bicarbonate of soda solution, brush the tops with the egg wash and season heavily with kosher salt.
Bake in the oven for 10 to 12 minutes or until golden brown.
For the Beer Cheese Dipping Sauce:
Place a medium size sauce pot on medium heat and melt together the butter and flour to form a roux.
Next, add in the milk and beer and whisk until it becomes very thick. Whisk in the cheeses until it is smooth and season with salt and paprika. Keep warm.
Chefs Tip:
These can be made ahead and frozen and warmed through when needed.
Smoked Salmon Devilled Egs
Method:
Boil the eggs for 7-8 minutes so they are hard boiled and let them cool in an ice bath before peeling and slicing in halve.
Once sliced, spoon out all the yolks and empty into a bowl. Mash together adding the lemon juice, Dijon mustard, salt, pepper, capers, and diced shallot.
Spoon the mixture back into the eggs or use a piping bag.
Add a slice of smoked salmon, a sprig of dill and a sprinkling of capers.
Chefs tip:
These are best made on the day that you will eat them, and you can try a maple glazed bacon as an alternative to smoked salmon.
Black Olive, Cheese, and Onion Scones
Method
Start by pre-heating your oven to 200°c/180°Fan/400°F/Gas Mark 6.
Dice the onions and cook in a pan with a little oil until golden and soft, then set aside and allow to cool.
In a large bowl, add the flour, baking powder, mustard powder and oregano. Season generously with salt and pepper, then stir until well combined.
Add the cubed butter and using clean hands, rub the butter and flour together with your fingertips until a crumb is formed.
Add to the cooked onions, olives and 100g of grated cheddar and mix until evenly combined.
Stir in the milk until you have a dough formed. Then turn out onto a clean, floured surface. Use your hands to knead the dough until it comes together to form a moist but firm dough.
Roll the dough out to be 2cm thick. Once rolled nice and even use your cutter to cut out the scone shapes and place them onto a lined baking tray.
When you run out of room to cut from your rolled dough, gather the leftovers together, roll once more and cut more scone shapes. Repeat until the dough is used up.
Wash the top of your scones with a little milk and then sprinkle the rest of the grated cheese over the top of each scone.
Place in the oven for 15 minutes until risen and golden brown with a lovely bubbly cheesy topping.
Chefs tip:
Your scones should easily break in half using your hands and are delicious served warm with some blue cheese.
Houmous and Vegetable Wraps
Method
Take the tortilla wraps and evenly spread 1tbsp of houmous on each.
Place a handful of julienned carrot down the middle of each wrap.
Sprinkle the julienned radish over the carrot
Finally add the cucumber down the middle.
Wrap each and cut into 4 equal bitesize pieces using a cocktail stick to secure if needed.
Pesto, Mozzarella and Tomato Wrap
Method:
Take the tortilla wraps and spread 1tsp of pesto evenly on each wrap.
Slice the mozzarella ball into 9 thin slices and place 3 slices down the middle of each wrap.
Slice the tomatoes and use one tomato on each wrap, discarding the ends.
Roll up and slice into 4 equal bite size pieces, secure with a cocktail stick if required.
Chefs tip:
Wraps can be made a few hours in advance but cover with lightly dampened kitchen roll and clingfilm to prevent drying out.