Summer Pea Linguini with Goats Cheese and Polenta Fritters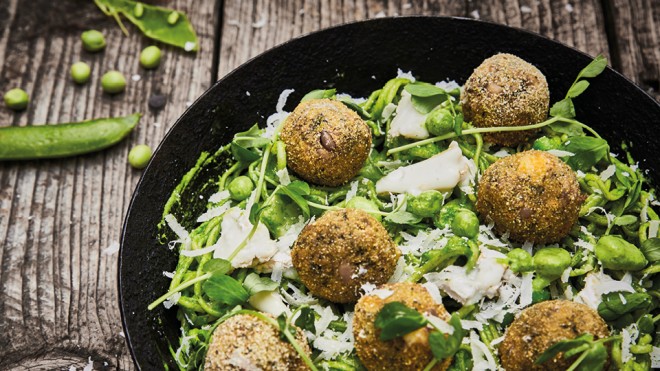 4 servings
35 Minutes to prepare
Ingredients
300g goats cheese cut into small cubes
80g baby spinach leaves
2tbsp grated Parmesan
Handful freshly podded peas and broad beans
Handful fresh pea shoots
300g linguini
400g tin chickpeas, drained
20g pine nuts, lightly toasted under the gril
2tbsp self raising flour
100g instant polenta
2tbsp vegetable oil
1tbsp butter
120g baby spinach
300ml double cream
Pinch salt and pepper
Instructions
1 Place the instant polenta into a shallow tray. In a food processor, lightly pulse the chickpeas, pine nuts, spinach, Parmesan, self–raising flour and half of the goats cheese with a little salt and pepper. Roll the mixture into small sprout size balls with your hands and roll in the tray of polenta to lightly coat. Place the balls onto a tray in the fridge for 20 minutes to set. Simmer the linguini until just cooked and drain.
2 To make the pasta sauce, bring the cream to a simmer and blend in a food processor with the spinach and a little salt and pepper. Return to the pan and add the peas, broad beans and cooked pasta, mix well.
3 Gently sauté the chickpea balls in vegetable oil and a little butter until evenly coloured. Serve with the linguini and garnish with fresh pea shoots and the remaining goats cheese.