The Boho Baker's Gnudi with Fresh Peas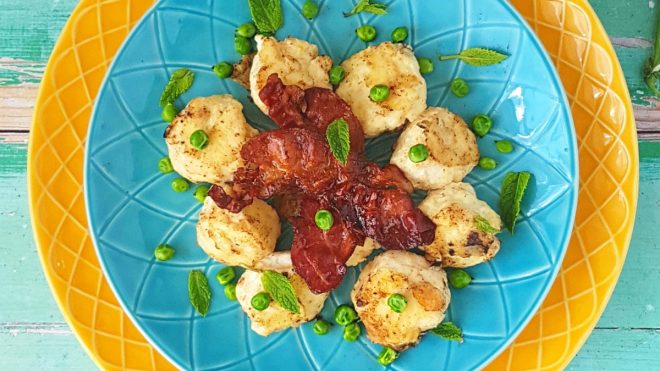 4 servings
30 minutes, plus overnight chilling to prepare
Ingredients
450g ricotta
60g Parmesan, finely grated
60g extra fine flour (such as pasta flour)
1 medium egg
1 egg yolk
Salt & pepper
100g sugarsnap or fresh peas in pods
4 slices pancetta
Sprig of fresh mint
Instructions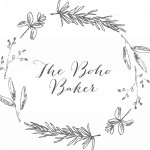 The Boho Baker describes herself as "Baker. Writer. Forager. Wanderer. Organic ingredient and edible floral Enthusiast. Member of the Guild of Food Writers." Very local to our HQ in Preston, she's kindly agreed to do a series of guest recipes for us, celebrating the best of our local produce. Follow her on instagram @thebohobaker
Gnudi are Italian dumplings, similar to gnocchi but lighter. They're delicious in this dish with fresh seasonal summer peas! You'll need to prepare these the day before you wish to eat them as they need to chill overnight.
Method:
Scoop the ricotta into a bowl and dab with kitchen paper to remove some of the moisture. Add the parmesan, flour, egg, egg yolk, salt, and pepper, and mix until well combined.
Line a plate with a sheet of greaseproof paper. Roll the gnudi mix into small dumplings and place on the plate to set (it may help to dust your hands with flour first). Cover with tinfoil and leave in the fridge overnight to set.
The following day, fry the pancetta in a little butter until crisp. Set aside, leaving the residual fat in the pan.
Fill a pan with fresh water and a little salt and bring to a boil. Toss in the peas and leave them to cook whilst you're dealing with the gnudi. Carefully add the gnudi one by one. When the gnudi floats to the top of the pan, remove it with a slotted spoon and pop it straight into the frying pan the pancetta was cooked in. Fry until the edges have turned slightly golden.
Throw the peas in the frying pan and leave them to soak up some of the pancetta juices whilst you serve up the gnudi. Top the gnudi with the pancetta slices before bursting open the pods and sprinkling the peas over the top. Garnish with a sprig of mint and serve immediately.