The Boho Baker's Bacon & Goats' Cheese Profiteroles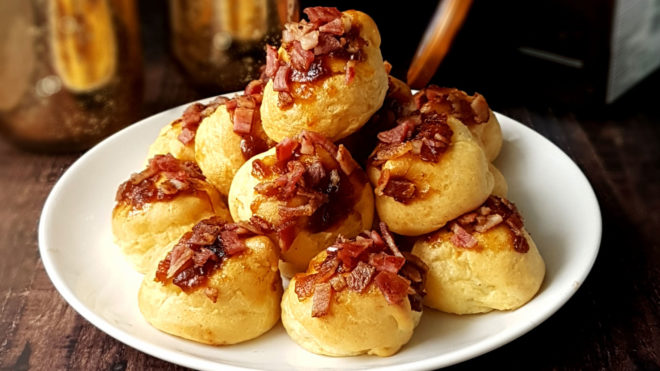 10 servings
45 minutes to prepare
Ingredients
For the choux
150g plain flour
100g unsalted butter
1tsp sugar
1tsp salt
4 eggs
For the filling and topping
200g soft goats cheese
100ml double cream
Pepper to taste
2 rashers smoked streaky bacon
6tbsp red onion chutney
Instructions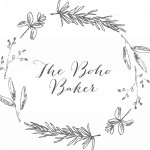 The Boho Baker describes herself as "Baker. Writer. Forager. Wanderer. Organic ingredient and edible floral Enthusiast. Member of the Guild of Food Writers." Very local to our HQ in Preston, she's kindly agreed to do a series of guest recipes for us, celebrating the best of our local produce. Follow her on instagram @thebohobaker
These bacon, goats' cheese and onion chutney savoury pastries are absolutely delicious and such a different way to enjoy a stack of profiteroles!
Method:
Place the butter in a saucepan with 250ml of water. Gently heat until the butter has melted, then bring to a boil.
Remove the pan from the heat and quickly add the flour, sugar, and salt, stirring vigorously to form a paste.
Whilst the paste cools slightly, whisk the eggs together in a bowl. Add the eggs to the paste, a little at a time, stirring until you have a smooth, glossy mixture.
Preheat your oven to 200C/180(fan)/gas mark 6. Fill a piping bag with the choux dough and use it to pipe 20 dollops onto a lined baking sheet. Bake for 15 minutes, or until light and golden.
Whilst the profiteroles are cooling, grill the bacon until crisp and cut into small pieces using a pair of scissors. Set aside whilst you make the filling.
Whisk the double cream until soft peaks form. Fold in the goats cheese and season with a little black pepper. Pop the filling in a piping bag fitted with a long, slim nozzle.
Pipe a generous amount of filling into each profiterole. Spread the tops with red onion chutney before dipping in the chopped bacon pieces. Serve immediately.