Savoury Buckwheat Pancakes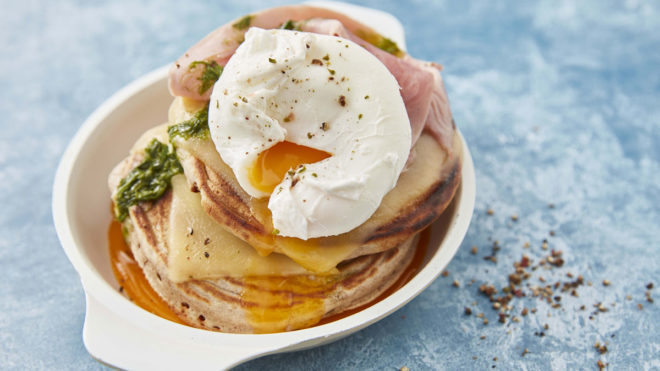 4 servings
55 minutes to prepare
Ingredients
160g buckwheat flour
95g spelt flour
1/2tsp salt
Pinch cracked black pepper
2tsp baking powder
1/2tsp bicarbonate of soda
190ml whole milk
3 eggs
For the dressing
2tbsp roughly chopped chives
4tsp white wine vinegar
4tbsp olive oil
Pinch sea salt & cracked black pepper
To Serve
8 Emmental cheese slices (or your favourite cheese!)
4 slices of good quality ham
4 eggs to poach
Instructions
These savoury, thick fluffy pancakes are a delicious dish, perfect for breakfast or brunch! The pancakes similar to an American style pancake rather than a traditional English version.
To make the batter, mix the dry pancake ingredients together in a bowl. In a separate bowl mix the milk and eggs together. Make a well in the dry ingredients and pour in the milk and eggs slowly, while whisking until smooth. Transfer to a jug for easy pouring.
Make the chive dressing by adding all ingredients to a blender and pulse a few times.
Pre-heat the oven to low to keep the pancakes warm.
Heat a non stick frying pan over a medium to high heat. Grease the pan with a small amount of unsalted butter. Once the pan is hot, add a large spoonful of batter and cook for a couple of minutes. Once air bubbles appear on the surface of the pancake, this means they are ready to turn.

 

Repeat until you have used up all the batter. Place the cooked pancakes in the oven to keep warm. While cooking the pancakes, poach the eggs.
To serve, place 3-4 pancakes on a plate alternating with slices of gouda cheese, top with a slice of ham and a poached egg. Season and finish with a drizzle of chive dressing.