Parmesan Parsnip Twiglets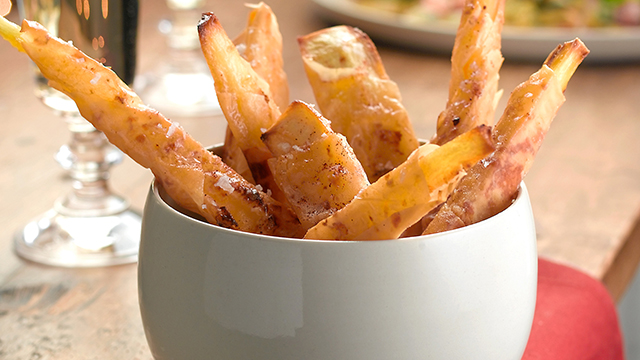 7 servings
40 minutes to prepare
Ingredients
3 large parsnips
2 tbsp honey
1 packet of filo pastry
250g melted butter
100g parmesan cheese, grated
Sprinkling of cayenne pepper
Instructions
Pre-heat the oven to 200°c / gas mark 6.
Cut the parsnips into long thin batons, then blanch in boiling water for 1 minute, drain, toss in the honey and leave to one side.
Place a piece of the filo pastry on the work surface covering the remaining pastry with a tea towel to prevent drying out. Brush all over with the melted butter then sprinkle with parmesan cheese and a pinch of cayenne.
Then, cut the pastry in half lengthways, then cut each half into three. Place a parsnip strip at the corner of a piece of pastry and wrap tightly and repeat with the remaining pastry until all the parsnips are done.
Lay the twiglets on a greased baking sheet and brush all over with melted butter. Sprinkle a little sea salt over and bake for about 20 minutes until crisp and golden.
Serve warm with our fruity champagne cocktails.