Cheesy Sausage & Egg Muffins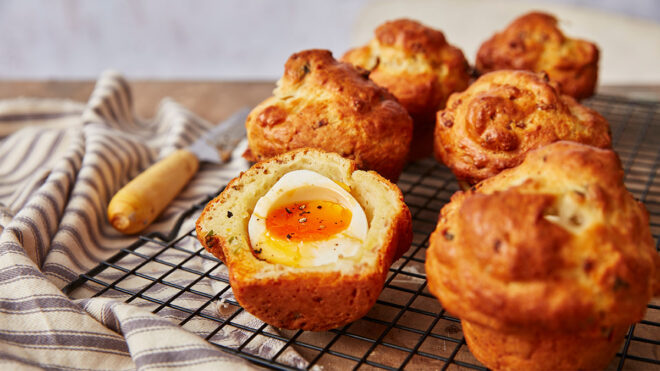 6 servings
30 mins to prepare
Ingredients
10 eggs
1 tbsp salt
110g vegetable oil
120g sour cream
300g plain flour
1 tsp baking powder
1/2 tsp bicarbonate of soda
60g Cheddar, grated
50g Parmesan, grated
3 spring onions, sliced
3 cooked sausages, finely chopped
Instructions
METHOD
Preheat oven to 220ºC / 200ºC fan / gas mark 7.
Soft boil six eggs for 5 1/2 minutes and then place in an ice bath with 1 tbsp salt until they are fully cold (the salt helps with peeling the egg shell).
Whisk together the remaining four eggs, vegetable oil and sour cream.
Add the flour 1 spoonful at a time, then add the baking powder and bicarbonate of soda.
Add the cheeses, sliced spring onion and finely chopped sausage, mix well.
Put the mix into a piping bag and pipe 1/3 of the way up into each six muffin moulds.
Gently roll each egg first into a little flour.
Make a small dint in each mould of batter mix and place an egg in the centre.
Pipe around each egg until all the eggs are fully covered.
Bake in the oven for 17 minutes.
Cut in half and serve immediately with a little salt.
CHEF'S TIP
This recipe is delicious with smoked salmon instead of sausage. Why not try tofu or vegetarian sausages for a veggie option.