Jasmine Tea Prawns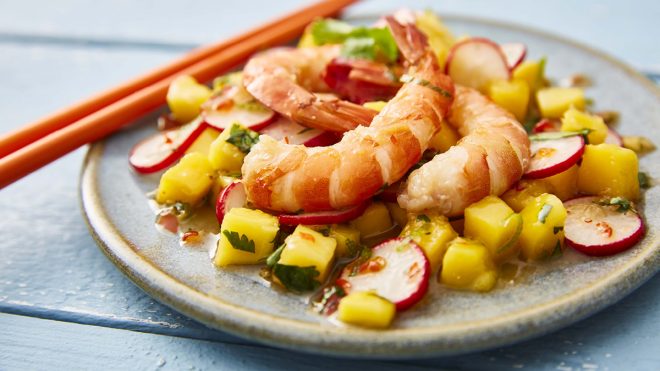 4 servings
20 minutes to prepare
Ingredients
For the prawns
2tbsp Booths Jasmine tea leaves
12 large king prawns, shelled and de-veined
For the salad
150g radishes, sliced
1 mango, diced
2tbsp sweet chili sauce
1 lime, zest and juice
2tbsp corriander, chopped
salt and pepper
coriander to garnish
Instructions
A delicious and zesty recipe, these jasmine tea prawns are the perfect dish to get you in the mood for summer.
Method
Place the tea leaves into a measuring jug. Pour 1 litre of boiling water over the leaves and steep for 5 minutes.
Place a fine sieve over a saucepan. Strain the tea into the pan and discard the tea leaves. Bring the tea to the boil, reduce to a simmer and add the prawns. Poach the prawns for 5 minutes or until cooked through.
To make the salad, place all of the ingredients into a bowl, toss to combine. Season with salt and pepper and divide the salad between 4 serving plates. Reserve a little dressing to garnish.
Arrange the poached prawns on top of the salad and spoon over the reserved dressing. Garnish with sprigs of coriander.
Chef's Tip
This is a lovely fresh starter or light lunch. Add soba noodles to the salad to turn this into a summer supper dish.