Trio of Tapas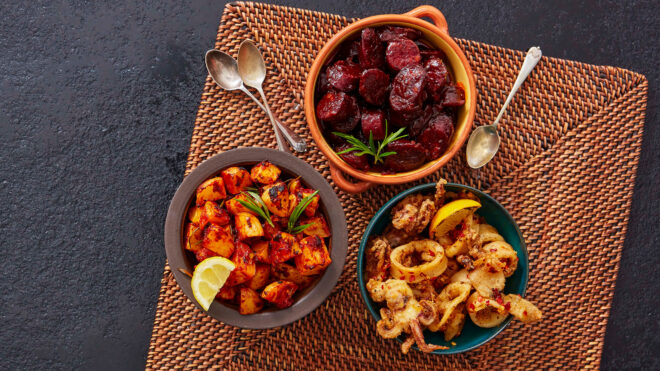 3 servings
5 minutes to prepare
Ingredients
Fried Calamari:
Vegetable oil
700g sliced squid or baby squid
50g well-seasoned plain flour
1-2tsp chilli flakes
2tsp garlic powder
2tsp dried oregano
Spanish Spicy Potatoes:
1tbsp tomato paste
1 1/2 tbsp olive oil
2tsp smoked paprika
2tsp dried oregano
1tsp chilli flakes
1/4 tsp salt
1/4 tsp white pepper
400g starchy potatoes
1/2 fresh lemon
Fresh rosemary
Maple Chrizo in Red Wine:
400g spicy cooking chorizo sausage
1tbsp extra virgin olive oil
1/2 large white onion, finely chopped
1 garlic clove, finely chopped
400ml red wine
2tbsp maple syrup
1tbsp chopped rosemary
Instructions
Fried Calamari
Method:
Fill a deep pan two-thirds full of vegetable oil and set over a medium heat until it reaches 180°C or until a piece of bread dropped in browns in 40 seconds.
Toss the seasoned flour and sliced squid in a bowl until the squid is fully covered. Then add batches of squid to the hot oil using tongs. Fry for 2-3 minutes until golden and crisp.
Drain on kitchen paper, scatter with sea salt flakes, then keep warm until all the squid has been cooked.
Chefs Tip:
Squid must be cooked for either a very short time or a very long time. Anything in between turns it very rubbery, 2-3 minutes over high heat is plenty in this recipe.
Spanish Spicy Potatoes
Method:
Preheat the oven to 200°C/ 180° Fan/ 400°F/ Gas Mark 6.
Put the tomato paste, olive oil, smoked paprika, oregano, chilli flakes, salt and pepper into a large bowl and mix well until combined.
Cut the potatoes into small chunks and add them to the bowl, mix well making sure they are all coated.
Tip the potatoes into a large roasting tin and cook in the middle of the oven for 40-50 minutes until cooked through and crispy.
Remove the potatoes from the oven and squeeze the lemon juice on top.
Serve sprinkled with fresh rosemary.
Chefs Tip:
Great for tapas or as a side. Why not experiment with new flavour combinations? Cumin and coriander with a squeeze of lemon tastes amazing.
Maple Chorizo in Red Wine
Method:
Cut the chorizo sausage into bite size pieces.
Heat the olive oil in a frying pan. Once hot, fry the chorizo pieces until golden brown, about 3 minutes on each side. Drain the chorizo and set aside.
In the same frying pan, on a low heat, cook the chopped garlic, onions and bay leaf until soft, this will take about 5 minutes.
Return the chorizo sausage to the frying pan and mix well. Increase the heat and pour in the red wine. Bring the red wine to the boil and allow the liquid to reduce by half. This will concentrate the flavours and make the chorizo sausage take on the red wine flavour.
After about 5 minutes, add the maple syrup and reduce the liquid for a further 5 minutes until the wine mix becomes like thick syrup.
Serve with crusty bread.