Cheeseburger Potato Skins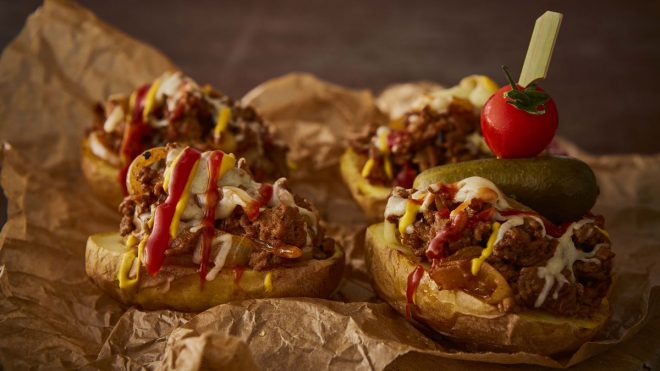 4 servings
55 minutes to cook, 15 minutes to prepare
Ingredients
4 large baking potatoes
1 large brown onion
450g minced beef
65g ketchup
30g classic yellow mustard
100g Cheddar
Splash olive oil
Instructions
Delicious stuffed potato skins with all of the flavours of a cheeseburger a perfect fingerfood!
Method
Preheat the oven to 200˚C/180 Fan/Gas 7 and bake the potatoes on a baking tray until tender, for 40 minutes.
20 minutes before the potatoes are ready, chop the onions then sauté them in a small amount of oil in a large heavy bottom frying pan on a medium-high heat until slightly caramelised. Remove and set aside.
Add the minced beef to the same pan and cook on a medium heat. Once it's cooked through, add the cooked onions back into the pan.
Stir the ketchup and mustard into the mix until all is combined and sticky.
Once the cooked potatoes are cool enough to handle, scoop out about half of the potato to create a home for the cheeseburger filling, and set aside. Put the skins back onto the baking tray and then fill generously with the cheeseburger mixture. Sprinkle each skin with cheddar cheese (the more the better) and pop back into the oven until the cheese has melted. Then simply remove and serve.
Mix the leftover scooped out potato with a little milk, butter and then season well to create a smooth mash perfect for bonfire bangers!
Chefs Tip
For an extra kick add Worcestershire sauce or for a satisfying crunch, dice up a couple of dill pickles and add them into the cheeseburger mix.