Boxing Day Porchetta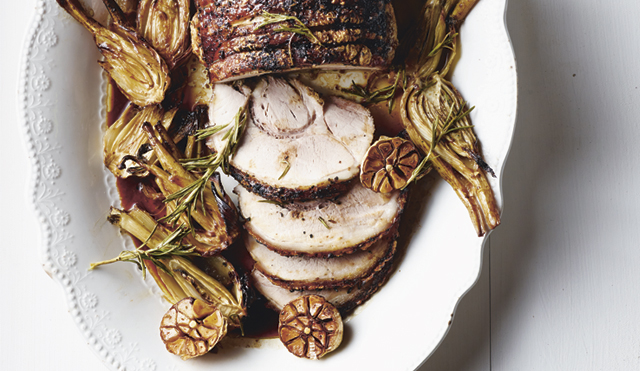 8 servings
Cook 2 hours 20 minutes, 20 minutes to prepare
Ingredients
2.5kg leg of pork
6 garlic cloves, finely chopped
4 tsp fennel seeds, crushed
sea salt
3 large fennel bulbs, quartered
2 whole garlic bulbs, halved
2 tbsp olive oil
300ml white wine
200ml water
Instructions
1 Pre-heat the oven to 190°C/fan 170°C/gas mark 5. Place the chopped garlic, fennel seeds and a pinch of salt in a bowl and mix together. Chop the leaves from two sprigs of the rosemary and add to the bowl. If the pork has been tied, cut the string and unroll it. Spread the garlic and fennel mixture over the flesh, pressing down well. Roll up again and tie with string in about eight places along its length and once at each end, so that it's secure and forms a neat roll.
2 If the skin is not already scored, use a sharp knife to cut the skin between the string, then pat dry and sprinkle with sea salt. Place in a roasting tin and arrange the fennel and garlic bulbs around the pork with the remaining rosemary. Drizzle the oil over the fennel and garlic and then pour the wine into the bottom of the tin with about 200ml water.
3 Place uncovered in the oven and cook for 2 hours and 20 minutes topping up the liquid a little when the bottom of the roasting tin starts to dry out (this will give you the most amazing gravy when you have finished cooking).
4 For the final 20 minutes of roasting increase the oven temperature to 220°C/fan 200°C/gas mark 7 to produce the crispy crackling. Leave the roast pork to rest in a warm place for 30 minutes. Carve into slices and serve with the tender fennel and some root mash and spinach, spooning over the delicious pan juices to serve.