Char Siu Pork & Sesame Wok Fried Greens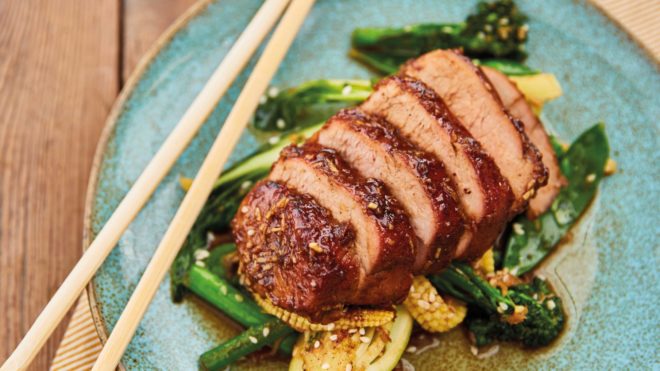 4 servings
45 mins to prepare
Ingredients
150g pork fillets x 4
For the marinade
1 tsp Chinese 5 spice
20g ginger, grated
3 garlic cloves, crushed
3 tbsp Hoisin sauce
3 tbsp honey
2 tbsp light soy sauce
3 tbsp Shaoxing wine
For the greens
1 pack of pak choi
1/2 pack of baby corn
1/2 pack of mangetout
1/2 pack of tenderstem broccoli
2 garlic cloves, crushed
20g ginger, grated
1 tbsp sesame oil
2 tbsp vegetable oil
2 tsp sesame seeds
2 tbsp soy sauce
1 lime, cut into quarters
Instructions
METHOD
1 Place all the marinade ingredients into a bowl, add the 4 trimmed pork fillet pieces so the marinade coats the pork. Cover and place in a fridge to marinate for a minimum of 2 hours. For the best results marinate overnight.
2 Remove the pork from the marinade and place on a wire rack in a tin foil roasting tray.
3 Pre heat the oven to 220°C / 200°C Fan / Gas Mark 7.
4 Place all the marinade ingredients into a saucepan and bring to the boil, reduce the heat and simmer until it starts to thicken and resemble a glaze.
5 Brush the pork fillet with the glaze and roast in the oven for 4-5 minutes. Turn the pork and repeat this twice.
6 Remove the glazed pork from the oven, and brush with more sauce until nice and sticky. Keep it warm and rest for 5 minutes.
7 Cut the baby corn into quarters length ways, cut the mangetout into strips, trim the tenderstem broccoli and cut into half. Finally cut the pak choi into quarters.
8 While the pork rests, add the vegetable oil to your wok. Once it starts to smoke, carefully add your vegetables and fry for 3 minutes.
9 Add the ginger, garlic and soy sauce and remove from the heat. Stir in the sesame seeds and sesame oil.
10 Slice the pork and top with the wok fried greens. Serve with a wedge of lime.