The Perfect Roast Turkey with Chestnut Stuffing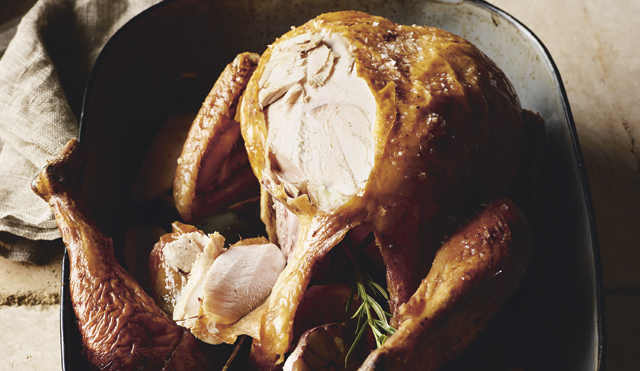 8 servings
Cook 2 hours 30 minutes, 20 minutes to prepare
Ingredients
4kg turkey
2 lemons, halved
1 onion, halved
1 garlic bulb, halved
Few sprigs rosemary
Handful sage leaves
3 bay leaves
50g butter, softened
Sea salt and milled black pepper
Instructions
1 Pre-heat the oven to 200ºC/fan 180ºC/gas mark 6. Place the turkey in a large roasting tin. Add the lemon halves, onion, garlic and herbs into the cavity of the turkey.
2 For the stuffing, split the sausages and remove the skin. Place the meat into a bowl and add the chopped chestnuts, breadcrumbs, herbs, garlic and egg. Mix together well. Use half of the stuffing to place in the neck of the turkey and roll the rest into balls to bake separately.
3 Rub the softened butter over the breast and legs of the turkey and season all over with sea salt and milled black pepper. Calculate the cooking time at 20 minutes per kg plus 30 minutes extra. Cover loosely with foil and roast for 30 minutes, then turn the oven down to 180ºC/fan 160ºC/gas mark 4 and cook for a further hour. Remove the foil and cook for the rest of the calculated time until the juices run clear when you pierce where the thigh meets the body of the turkey with a sharp knife. Once cooked, transfer to a warmed serving platter and leave to rest. Cover with foil for 20 minutes before carving. Keep the juices in the tin for the gravy.