Gluten Free Vegan Waffles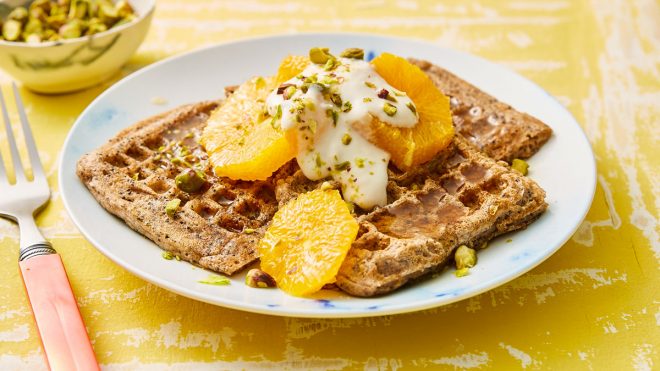 4 servings
25 minutes to prepare
Ingredients
FOR THE WAFFLES
150g gluten-free self raising flour
1tsp gluten-free baking powder
50g gluten-free oats
2tsp cinnamon
2tbsp poppy seeds
Pinch salt
350ml almond milk
2tbsp maple syrup
TO FRY
1tbsp coconut oil
TO SERVE
2 oranges, peeled & sliced
4tbsp dairy-free coconut yoghurt
1tbsp pistachio nuts, chopped
Instructions
Enjoy waffles for breakfast, dessert or even for tea with our easy recipe – it does require a waffle pan.
Method
To make the waffles, place the dry ingredients into a bowl and stir to combine. Make a well in the centre and whisk in the almond milk and maple syrup to form a smooth batter.
Brush a waffle pan with a little melted coconut oil and place over a medium heat.
Pour approximately 1/3 of the mix into the pan, spread evenly and fry for 3-5 minutes on each side or until golden brown.
Repeat to use all of the batter.
To serve, top with orange slices and a dollop of yoghurt. Decorate with pistachio nuts and drizzle with extra maple syrup.
Chef's Tip
This recipe can be used to make savoury waffles, although our suggestion means the recipe will no longer be vegan friendly. Omit the cinnamon and maple syrup from the waffle recipe and top with wilted spinach, a poached egg and a drizzle of hollandaise sauce or your favourite savoury toppings.