Henrietta Lebeter's Spiced Plum Tart with a Gingerbread Crust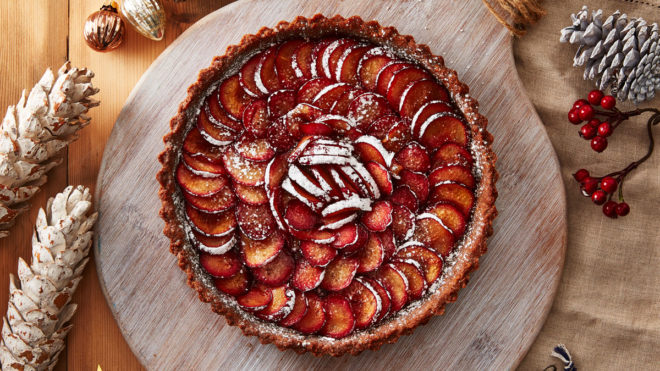 10 servings
1 hour 30 minutes to prepare
Ingredients
300g gingernut biscuits
150g unsalted butter
35g light brown sugar
8 or 9 plums
2tbsp agave nectar or honey
1/2tsp ground ginger
1/2tsp mixed spice
1tsp vanilla extract
2-3tbsp Shellys Mulled Gin
Icing sugar for decoration
Instructions
Our Settle colleague Henrietta Lebeter has created this stunning spiced plum tart with the most delicious gingerbread crust. It would make a fabulous addition to any festive buffet table.
Pre-heat the oven to 180°C (fan)/400°F/gas mark 6.
In a food processor, blend the gingernuts, butter and sugar until well combined.
Press mixture into 9" (23cm) non-stick fluted flan tin with removable base and blind bake for 25 minutes until the base has darkened to a rich brown. Use baking beans if necessary.
Meanwhile, thinly slice plums and mix with ground ginger, mixed spice, vanilla extract, mulled gin and agave nectar. Set aside to infuse.
Remove gingerbread crust from the oven. Once cool to the touch, arrange the infused plums on the crust. Drizzle with a little agave nectar or honey before returning to the oven to bake for a further 20 minutes or until the plums look juicy and have deepened in colour.
Dust tart with icing sugar and serve warm with a large dollop of cream.