The Boho Baker's Peach, Plum & Almond Owl Pie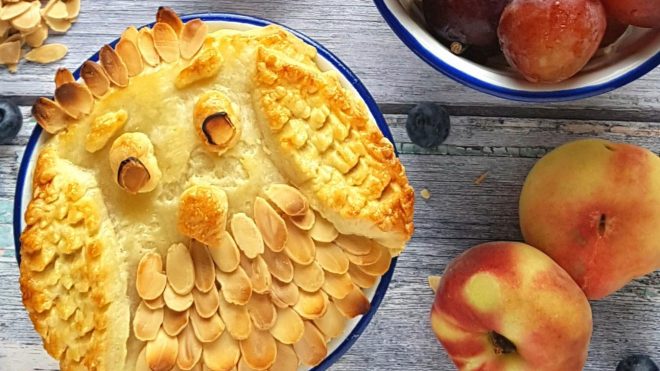 6 servings
45 minutes to prepare
Ingredients
500g puff pastry
3 flat peaches
5 plums
Handful blueberries
2tbsp sugar
1tbsp cornflour
1tsp almond extract
1tsp vanilla extract
15g flaked almonds
1 egg, beaten
Instructions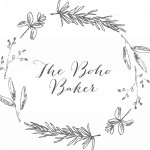 The Boho Baker describes herself as "Baker. Writer. Forager. Wanderer. Organic ingredient and edible floral Enthusiast. Member of the Guild of Food Writers." Very local to our HQ in Preston, she's kindly agreed to do a series of guest recipes for us, celebrating the best of our local produce. Follow her on instagram @thebohobaker
How cute is this summer fruit owl pie? Packed with peaches and plums, contains no actual owls!
Method:
Preheat your oven to 180C/gas mark 4. Keep the pastry in the fridge until needed.
Chop up the peaches and plums into small pieces and place in a bowl. Add the blueberries, sugar, cornflour, and extracts. Give it a good stir before setting the bowl aside whilst you prepare the pastry.
Remove the pastry from the fridge and roll out on to a lightly floured surface. Use the pastry to line either one large pie dish or two small deep pie dishes. Fill to the brim with the fruit filling.
Cover the top of the pie(s) with pastry and crimp the edges with a fork. Brush the top with some of the beaten egg and add the flaked almonds in layers to create the owls chest. Cut out two wings, two eyes, and a beak, and stick on using a little egg.
Snip the wings with a small pair of scissors to create a feathered effect. Use two small pieces of almond to create pupils on the eyes. Add a few spare almonds to the top of the owls head. Brush the top with a little more beaten egg.
Bake in the oven for 30/35 minutes, or until the pastry is golden and the almonds are toasted. Serve with custard or a dollop of vanilla ice cream.