Plum Cordial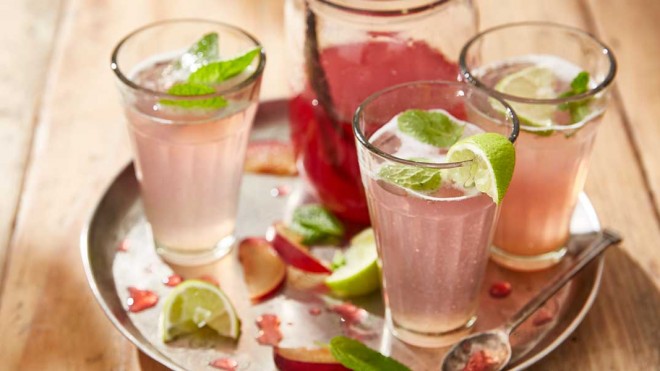 4 servings
35 minutes to prepare
Ingredients
500g plums (approx 8), stoned and halved
1 vanilla pod, split lengthways
2tbsp maple syrup
100g caster sugar
1/2 lemon, juice only
Soda water
Mint
Lime wedges
Instructions
Fresh plum cordial, ideal for use in cocktails or as an alcohol free summer cooler.
Place the plums, vanilla pod, maple syrup and 225ml water into a saucepan. Bring to the boil, reduce to a simmer and cover. Simmer for 20 minutes or until plums are soft and pulpy.
Place a large sieve over a mixing bowl. Push the cooked plums through the sieve using the back of a spoon to extract the juice.
Pour the extracted juice into a small saucepan and add the sugar and lemon juice. Bring to the boil, reduce to a simmer and simmer for 5 minutes.
Carefully sterilise the bottle with boiling water, then pour in the cordial. Will keep in the fridge for 1 month.
To serve, top the cordial with soda water, a sprig of mint and fresh lime wedges.
Chefs Tip
For summers evenings turn this into your favourite cocktail, top with prosecco, mint and lime.  Keep the plum pulp in the fridge in a tupperware box and serve with yoghurt as a fruity breakfast, use within 2 days.