Poached Plums with Quinoa Granola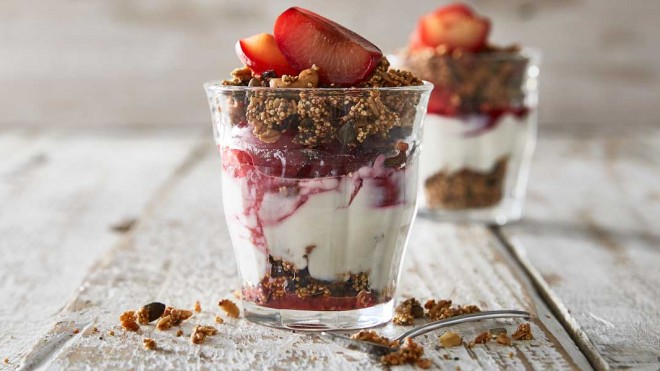 4 servings
45 minutes to prepare
Ingredients
150g quinoa
50g oats
50g cashew nuts
50g almonds
50g cranberries
50g pumpkin seeds
50g chia seeds
1tbsp coconut oil, melted
125g maple syrup
For the Poached Plums
75g caster sugar
3 cardamom pods
1 cinnamon stick
1 vanilla pod, split
6 plums, stoned and halved
Dairy-free coconut yoghurt to serve
Instructions
Pre heat the oven to 150°C (fan)/325°F/gas mark 3.
Place all of the granola ingredients into a mixing bowl and stir to evenly coat and combine.
Line 2 baking trays with baking paper and divide the mix between the 2 trays.
Bake for 30 minutes. Allow to cool completely before breaking into clusters.
To poach the plums, place the sugar cardamom pods, cinnamon stick and vanilla pod in a saucepan. Add 2 tablespoons of water and bring to a boil. Reduce to a simmer and add the plum halves. Cover and simmer for 4 minutes or until the plums are soft but still holding their shape.
To serve, layer the granola and dairy free coconut yoghurt into a serving glasses. Top with the poached plums and spoon over the juices.
Store extra granola in an airtight jar.
Chefs Tip
In the summer months change the stewed plums for griddled peaches. Slice in half, remove the stone and cook on a hot griddle for 2-3 minutes.