Quinoa & Cranberry Snack Bars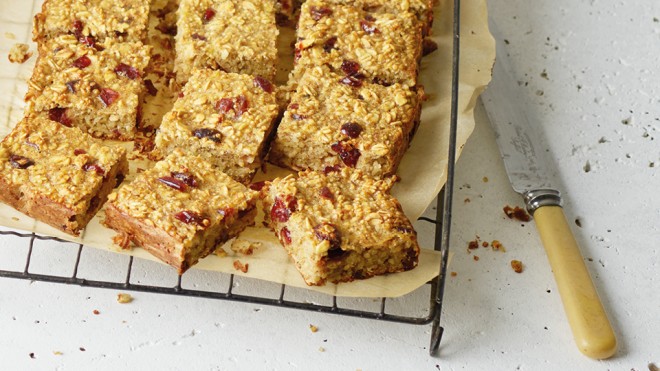 15 servings
35 Minutes to prepare
Ingredients
180g pre-cooked quinoa
135g rolled oats
50g soft, light brown sugar
1tsp baking powder
2 medium ripe bananas
2 large free range eggs
1tsp vanilla extract
4tbsp nut butter, such as almond
100g dried cranberries
Instructions
1. Preheat the oven to 180C / 160 fan / gas mark 4. Take a large bowl mix together the pre-cooked quinoa, rolled oats, brown sugar and baking powder.
2. In another bowl mash the bananas, then beat in the eggs, vanilla extract and nut butter. Mix the two bowls together then stir in the dried cranberries.
3. Line a tin with parchment paper, pour in the mixture and bake in for 20–25 minutes until golden and firm. Leave to cool then cut into squares.