Quinoa, Roasted Vegetable & Puy Lentil Salad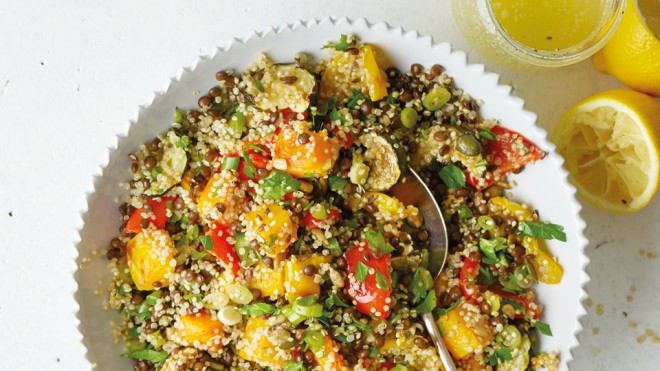 6 servings
40 Minutes to prepare
Ingredients
1 red pepper
1 yellow pepper
2 courgettes
500g butternut squash
2tbsp rapeseed oil
250g ready to eat puy lentils
150g pre-cooked quinoa
60g toasted mixed seeds
1 large handful fresh flat leaf parsley, chopped
1 lemon, juice only
2tbsp extra virgin olive oil
1tsp Dijon mustard
Instructions
1. Preheat the oven to 200C / 180C fan / gas mark 6. Chop the vegetables  into large chunks and place in a large roasting tin. Drizzle over the rapeseed oil and mix. Roast for 20 – 25 minutes until tender and golden.
2. Place into a large bowl and mix with the Puy lentils, pre-cooked quinoa, parsley and and toasted mixed seeds. Season well.
3. For the dressing, mix together the lemon, olive oil and mustard. Pour over the salad and serve.